Your horses' lives are in your hands and they rely on you completely for their health and welfare. In an emergency, do you know what information to give your veterinarian and what to do before your vet arrives or you transport your horse to the clinic? Can you take your horse's vital signs? Can you do basic wound care? Do you know how to cover an eye injury? Can you recognize signs of illness? Do you have an equine first aid kit? Do you how to trailer your horses safely? If you can't answer all of these questions with a definitive "Yes!" for all the situations that might arise, then Equine Emergency First Aid training is exactly what you need. Are you fully prepared for a disaster – flood, fire, hurricane…? If not, the Disaster Planning & Emergency Preparedness course is for you. Host barns receive complimentary trainings, hosting non-profits receive donations.Elements like this introductory text can often be hidden in the block settings. Click on this text to start editing and enter your own text with some basic formatting.
Equine Health and Emergency First Aid (1 day) $159.00
Our most comprehensive course! Join us for a one day course covering: what your vet needs to know, conditioning a horse to accept treatment, taking vital signs, dealing with lacerations, punctures, colic, choke, collapse, casting, shock, hoof issues, recognizing pain in the horse and pain source identification, spinal health, injury prevention techniques and so much more! All attendees receive a certificate of completion, first aid manual and a "vitals" reference card.
June 24th 8-4pm
Advanced Equine First Aid – Plan, Prepare, React! (1 day) $159.00
Join us for a one day advanced equine emergency first aid course and learn what to do in the more serious situations. Covering everything from serious lacerations to poison, burns to bites, fractures to sucking chest wounds, this course prepares the student to handle serious injuries while waiting for the vet. All attendees receive a certificate of completion and a manual.( Equine Health & Emergency First Aid is a pre-requisite prior to attending the Advanced class).
Equine First Aid Fundamentals (half day – ages 10+) $89.00
This is a half-day, fast-paced clinic covers the fundamentals of equine first aid. Working hands on with the horses, you will learn to take vital signs, recognize pain in the horse, detect colic, and participate in plenty of bandaging in realistic scenarios! All attendees receive a certificate of completion and a first aid reference handbook.
June 22 12:30-3:30
Safety First – The Barn and Beyond (3 hours) $59.00
Looking to buy your first horse? Your first acreage? New to the world of ranching or just want to get close to a horse and learn more about them? Join us for a 3-hour comprehensive safety course focusing on farm safety, livestock safety and – of course – safety around horses!
I Can Help! Horse First Aid for Kids (3 hours – ages 5-10) $59.00
Have a horse crazy youngster? Sign them up for the 3 hour kids program. They'll learn horse safety and basic first aid in a fun, hands on environment. There's even a recipe for horse cookies in their handbook and they'll all get a certificate of completion! No horse experience necessary!
YAY OR NEIGH – Farm Safety for Kids (half day – ages 5-10) $59.00
In this fun and interactive class, kids will learn about staying safe around livestock and machinery, as well as fire and other extreme situations! This 3 hour course will give your kids the tools they need to be safe, proactive and make good decisions.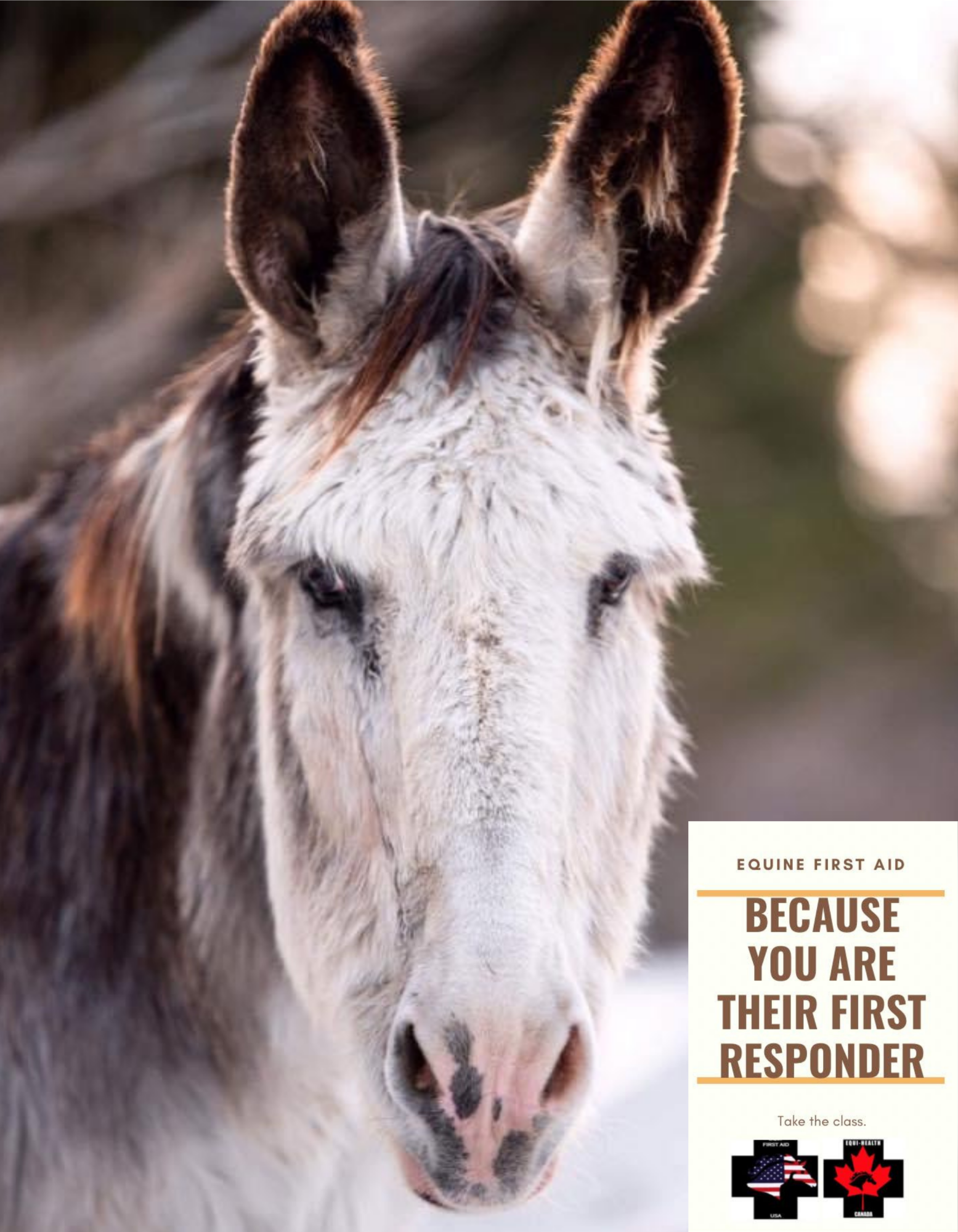 Disaster Planning and Emergency Preparedness Training (1 day) $159.00
A MUST for any livestock owner, this course will train you in fire prevention, planning for and executing safe evacuation procedures, hidden dangers and responding to first aid emergencies. It also covers what to do in natural disasters such as flooding, wild fires, ice storms, hurricanes, tornadoes and more. Don't be unprepared – we can help you help your animals. This course is suitable for any livestock operation, not just horses and is supported by the insurance industry. All attendees receive a certificate of completion and a manual.
Coming Soon!!!!