In Memory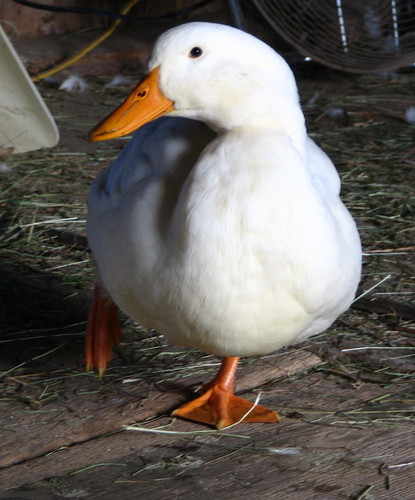 The late Wilbur...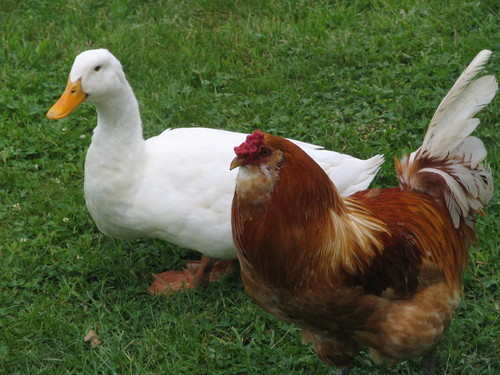 Stinky and Hobbles...the inseprable duo. Stinky has a wife on order, and will be here on Thursday June 5th.... Izzy is Stinky's new wife, which Stinky chased around the first few days, but now they are settling in and beginning to actually lay eggs...with HUGE yolks. Want any???
Izzy keeps Stinky on his toes, and they both enjoyed the rain in June... I think they were the only ones that did. They keep trying to "fly" this fall, seems like they think they should go down south:) They are too heavy to get any lift and succeed in only looking like goobers!
Izzy has passed, it is back to just Hobbles and Stinky.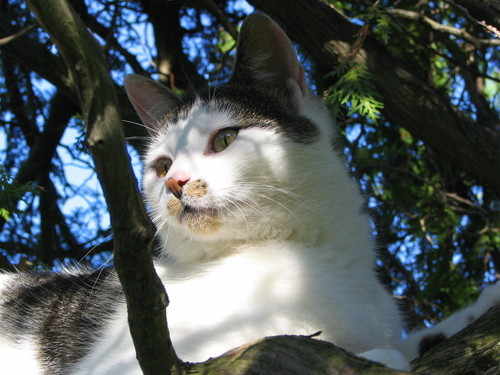 This is
Smudge
he is keeping watch ov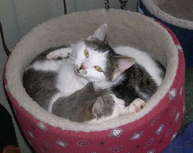 er the stable from the tree tops, and being a super mouser! Sadly Smudge dissapeared this summer '12 we miss him quite a bit.
Marble:
Kitten that loves to play with the carrot strings as we play with the horses:) She is seen running around after the swirling leaves. Marble had kittens on April 17 2012 and they are Buttons, Slyvester, Pinkles, and Splat. Unfortunatly Marble has disapeared this late summer, we all miss her terribly.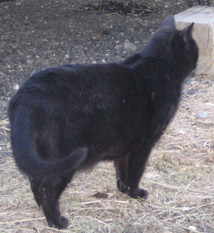 Oboo is a cat that ended up here, and likes to stay because of the food...he is a great mouser, and picks a little bit on Wheezer and Smudge. He likes to stay curled up in the hay loft. Amelia is able to pet him, but anyone else watch out!
He has come a long, way and does come into the apt to get a drink and will occationally sleep inside for a while. He is softening up!
Oboo has dissapeared, I hope that he will be back soon. He had really become a love bug and spent nights in the house with us. Oboo has not come back, and we miss him. (10/09)
Henny Penny
in her wreath!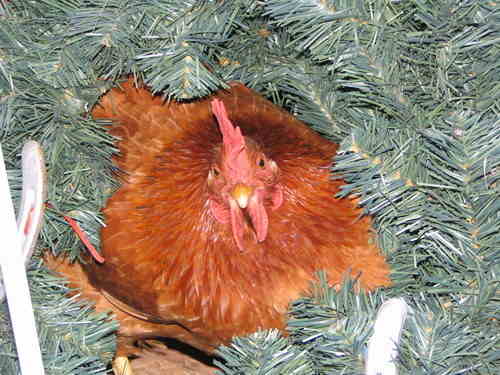 Henny is about 7 yrs old as of 2009. She will occationally lay an egg. Mornings consist of tapping on the sliding glass door to get a cracker from Amelia. She still lays eggs!~ Henny has passed, and is sorely missed.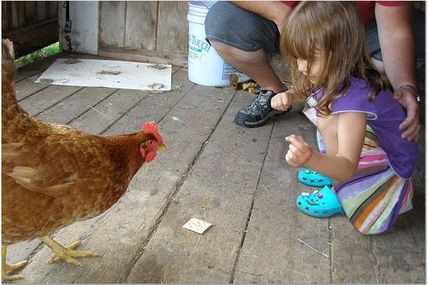 Sam and Henny talking over crackers.
Dobbin 11/2/23
Princess 3/18/22
Tavish 10/1/22
Moony 6/17/22
Dillion. 6/17/22
Arizona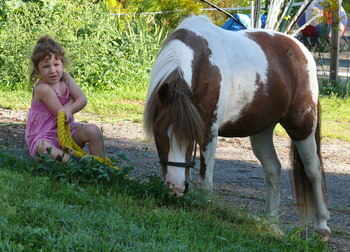 Tiny Bubbles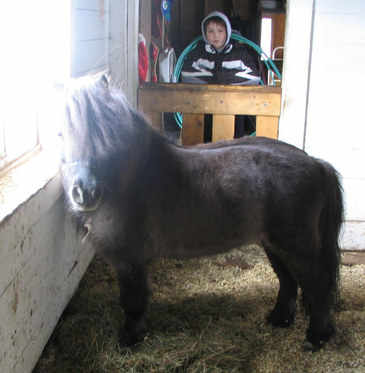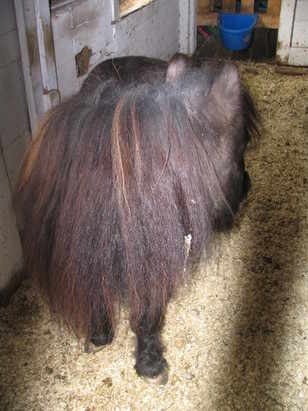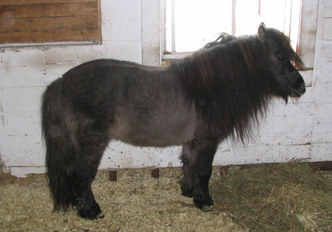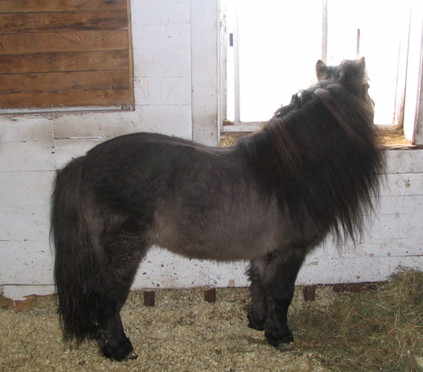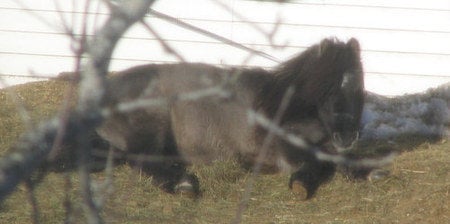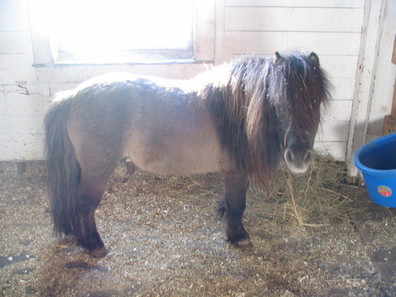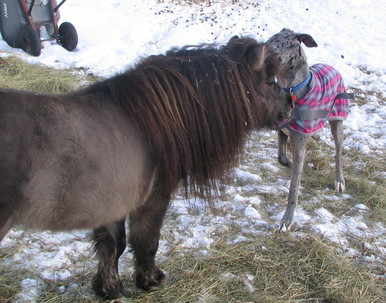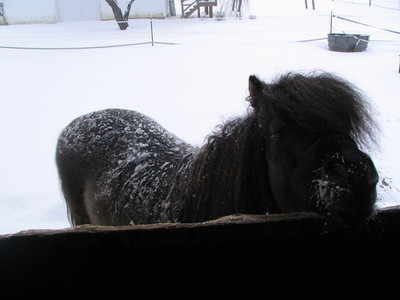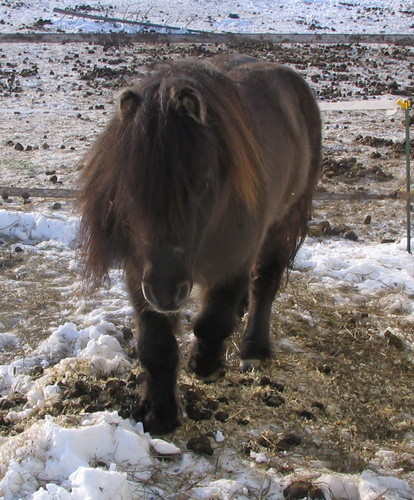 Tiny came into my life around christmas of 08. Mike and I went to get him from a person that couldn't keep him anymore. They forgot to mention that he was a stud, and that he had crippled legs on the front. Tiny was 11 yrs old, and had bad hair days all the time.
Tiny made the trailer trip and settled into the stall for the night. The extent of his front feet was that they were growing outwards, upwards, and under into themselves; creating a very deformed foot, ankle, and knee. Tiny received farrier work every four weeks for a more natural foot.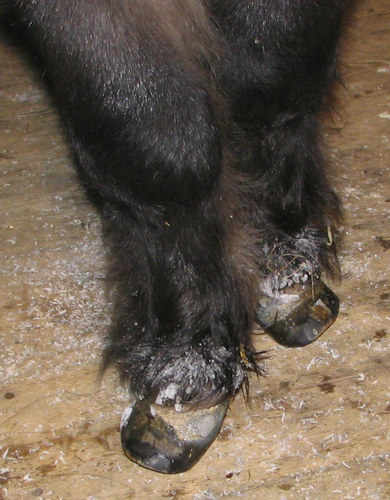 Tiny's heels on his right front foot were actually curving back into the sole of the foot... that is how bad it was. Here are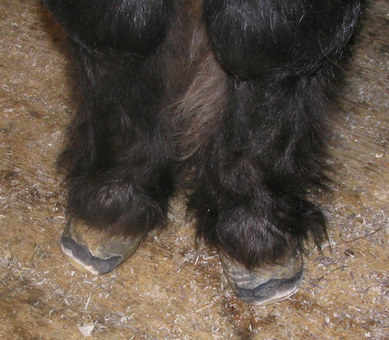 the pics from his first trimming. Big difference! Tiny liked his new toes... he would run around or rather plowing all this snow! His feet continued to get better each trim. He would trot around the paddock. Tiny stood on his hind legs for most of the first trimming, but then stood like a champ for all the other trims.
T

iny learned quickly that people were fun to be around, and that he could be mannered on the end of a lead line. Students learned that even though he was small he could give you a run for your money, and that because he was small you shouldn't "push" him around. He deserved the same respect as a full size horse.
Tiny was one of the most well mannered studs I have ever worked with. Everyone was able to walk in and around him, or ask him to move over if you were bringing in his mare, and he would respectfully move. He has given us a gift; possibly two. Arizona and Moony should be having his offspring in the spring of 2010.
It appears that Tiny got kicked and the resulting force punctured a hole in his treachea. He sort of "blew up" much like a person with allergic reaction which included sounding like he was snoring. He was tubed by the vet, and the options were to leave him as he was, seeing if the hole would heal on its own, and to also scope down his throat to see the exstent of the hole. There was no garantee that he wouldn't get an infection in the hole, or that he wouldn't need surgery to repair it.
I didn't like hearing him have such difficulty breathing, and to be so uncomfortable. Tiny had spent the past 6 months having a blast, being free to roam in and out, and had his herd of mares. It was with saddness that he crossed the bridge. I'll see them all again at some point.
Simple Motion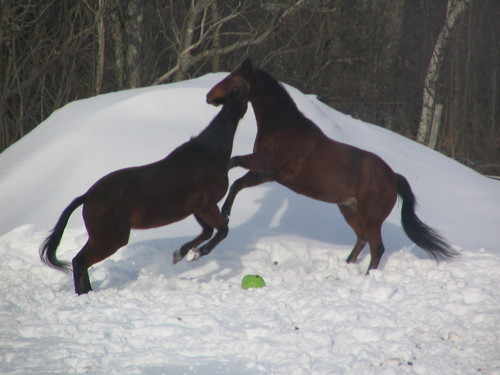 Standardbred Gelding that made $86,000 in racing career, as a pacer which included breaking his right hind leg at age 3, then again at age 9.


I recieved a call that there was a horse in need of a home, so I called my friend and off we went to look at this "gift horse". At the time I didn't have my own trailer to pick up this "gift horse". There he was a skinny bay gelding in a racing stable with deep brown eyes that just said, "I'm ready". Remember, never look the "gift horse" in the mouth.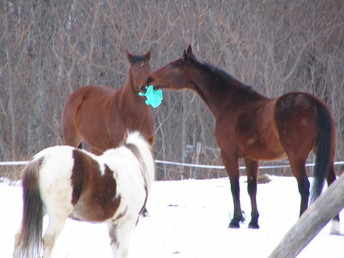 I grabbed the lead rope and loaded him in the trailer. I then asked what his name was. I was told "'Simple Motion,' and we call him 'Simple' around here." I said thanks, and thought his new name would be Mo. With my friend driving and me giddy in the passenger's seat we headed down the dirt drive with Mo in the back. As soon as we made it to the pavement, Mo started rocking and banging back there. I climbed into the back and continued the 12 mile ride home with a fire breathing dragon that made the most painful noises I have ever heard. Mo would kick the back of the trailer, lunge forward, and then make a throat sound of a dying animal. So there we were starting our life together.



Thinking "what have I done?", I was never so relieved to see the driveway of the barn. We both hopped out of the trailer and were much happier! Mo met May, and Impy over the fence and joined them a few hours later in the pasture. Needless to say in the begining the whole 24/7 turnout with a run-in was a little sub par for the prince. Mo had never been ridden, and we spent the first few weeks just ponying him off of Impy. I was then able to bring the crew up to 185 Academy Rd and begin a life up there.



Mo progressed in his riding and always took care of his rider. Mo was always the last horse in a line, and he liked it that way. Mo pulled the cart we have, loved baths, hated puddles, and loved his buddy Cash. Over the years Mo took kids around the ring, through the woods, and back again. He would stand for hours to be groomed, thought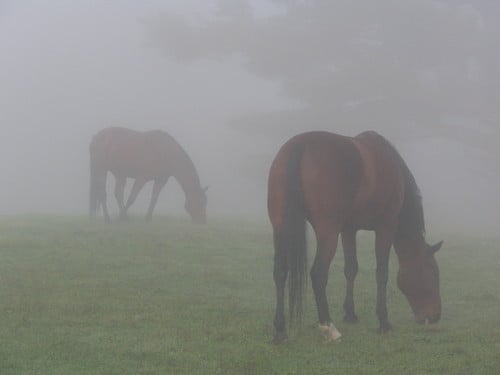 the tractor was a major MONSTER, and could always bring a ball to Cash when wanting to play.



Mo didn't like new horses coming to the barn, he even had his own privacy screen for an adjustment period until he could stand them. (Often they would become good buddies after a while) Sometimes he would hide in the side stall and run out at the new horse, flashing his teeth, and then run back in hiding....what a goober. IF you dared to be late feeding Mo would let you know by banging his bucket, and waving his head up and down. Mo was able to do a bow for a peppermint too.



I did a routine worming of all horses in July of 07, and unfortunatly this was what did end Mo's life. Within48hrs of giving him this wormer, he was unable to swallow, just like a text book choke. We went through different foods, thinking it was a throught irritation, but to our suprise the wbc counts were really high. Mo then began not to be able to eat even the m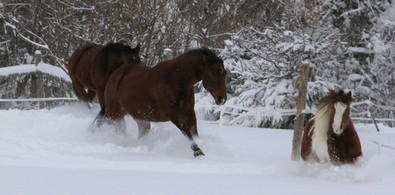 ushed food, and soaked hay within another 48hrs. Rounds of Antibiotics were given, DMSO thru the IV (at the clinic), and lost an amazing amount of weight.



Mo spent two days (The only two in his time with me) away from home, at the clinic. The decision after treatment was then made to bring him home and see how he could do. Mo did a small recovery the first night, and then we found him in the morning on the other side of the barn not wanting to leave the stall for breakfast. I asked him to go to his breakfast dish, and when he did turn to go out he hit his head on the stall door, and wobbled in the back...NOT NORMAL. Especially since he had lived here for six years...believe me he knew where his breakfast dish w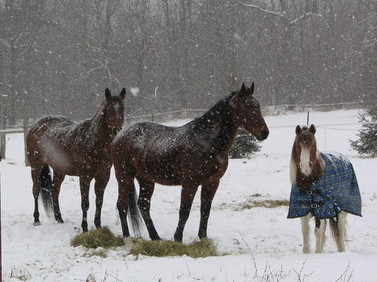 as!


At that moment I knew it was time, and called the vet. By the afternoon when the vet was able to come he had begun to drown himself with fluid in the lungs. It was time. I walked him out to the pasture and held onto him as he fell. It was a gracefull fall for such a big guy, he looked so relaxed finally.

As I looked at his body resting, I finally noticed that the "big" boy he had been he was no longer. This sickness had taken such a toll on his body, ribs were visible, the coat wasn't as shiny as it should have been, although his thin tail was still shiny I cried as I braided it. To me I thought "I can't believe I let him get this bad." Now looking back it wasn't my fault. After finishing the braid, I cut his tail off and it rests in the house with the other horses' tails.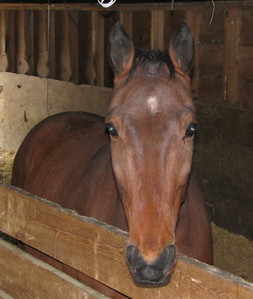 Cash whinnied at Mo's body and then came running over. Sue, Arizona, and Ida followed. Cash thundered up and sniffed at his body, nickering. That was tough to watch. I stayed with him as Mike dug his grave, mom had Amelia and we all cried. Mike finished burying him and we planted a pair tree with rocks on either side atop of him. I miss him dearly, and think of him often. It truly was a gift to find at Hemphills in August of 07...... Dobbin, Mo's uncle!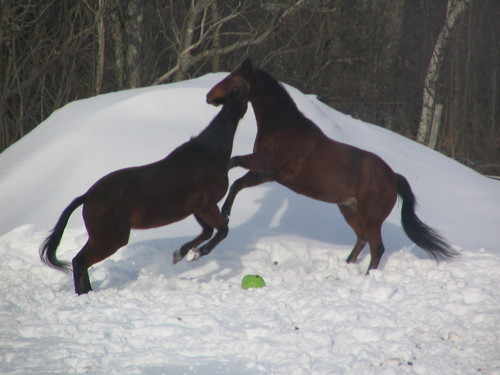 Mo at the barn, the first year.

Roy

Standardbred Gelding named Roy. Roy was listed on mainehorse.com, as a horse that was; "free and needs a new home, with another horse, and has an old injury, but rideable."


Mike and I drove down below Portland, and found this little place with a shed in a small field and Roy was locked inside, looking over the door at us, expecting food. Roy spoke right off to me, and was ready to come home with us. SO there he was...


Roy was in a small flooded stall, and had no visible water bucket (not like he couldn't drink the water that was up over his hoofs!(Just kidding)) or hay. He had been in this "stall" for the past year, and the lady that had him had never owned a horse before. She did know that it was not a good situation he was in. She stated that the old owner had told her to keep him in the stall for a year to let the knee heal, as he had broken it racing.


Mike and I made our way to see Roy, and upon looking at him I was devistated. His left knee was twice the size that it should be, with a bow in the whole leg leading up to the shoulder. He was perminantly disfigured, and I knew not rideable. His feet had not been trimmed in over a year, and were severly overgrown making it harder for him to walk. But that is OK. I asked my husband Mike to give the final yes or no, and to take him out for a walk.


So here is a horse that has been in a stall for a year, and a husband that is very supportive, but not totally horseyfied! Roy limped along behind Mike like a puppy, and Mike I think did like him. Mike loaded him into the trailer, and then we were on our way home to Monmouth.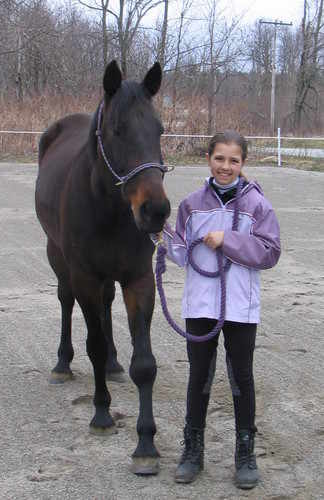 Roy made the trip, and went into part of the barn where he was able to go in and out as he pleased, into a small paddock. Roy did get tired the first few days, as it was such an effort to move around finally so much. Jana came out and did his teeth, which were horrible. Roy did like his food however and took his time eating his grain.


Eventually Roy moved in with the rest of the herd, and did keep up for the majority of the time, he even was able to give a buck now and then. They all sort of watched out for him, even Mo who was usually a bully at first. Addie really hit it off with Roy, and did like to groom and take him for walks after her lessons.


Roy gained weight, got a start of a summer coat, and was able to graze for the first time in a long time I believe. In May one day when I went to feed I knew it was time, Roy was tired and his knee had swollen to twice the already big size. His hind end was tired too, and in all fairness quality is better than quantity.


Although he was here for a short time Roy touched many lives. He taught me not to give up on the "unrideables", he taught Addie to keep going, and to foster those that are picked on in life. Roy even had the "Winter Pals" group from the school next door, that we come in all shapes, sizes, colors, and disablilities. ****While digging his grave I found a white granite heart shaped stone in which we have had his name engraved, and will be placing atop stones in the pasture.
Ima Little Impish aka "Impy"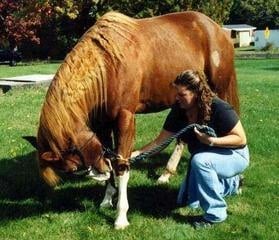 Impy was born on April Fool's Day 1997. He was at a farm that I was boarding my horse Beau at. Impy wasn't even on my radar for purchasing as I had a nice older gelding and didn't need a young one to train. I made sure to say hi to Impy as often as possible and to find that special "itch" that he had.
Impy sort of became my focus after my riding horse Beau was sick and no longer rideable. I then turned to Impy as a compainion that would last a lifetime. I worked countless hours on the trails, all walking and eventually added in or rather on a saddle, and bridle, ground drove and when it was time I was able to just hop on and go. Impy taught me a ton about patience and how to love a horse, but not to baby it.
Impy went to see the vet often, as he scalped his forhead, rope burned his hind leg, and had a bone chip removed from his hock, and this was all within his first 4 yrs of life! I spent more money in vet bills than I did purchasing him. I learned alot about the art of horsemanship with him. Earn your position in the herd and be able to keep it...always. I am so greatful for those lessons, don't think I would be who I am today without it.
What finally did Impy in was the high tensile wire fencing that was present here at Academy Rd when I was first up here. What happened was that I came up to feed Mo, May, Impy in the morning. No horse was to be found by thier feed buckets, and my stomache sank. I headed down to the hill, and there I could see the tips of Impy's ears bobbing up and down, as if he was running up, but they just weren't moving fast enough. I ran. So there he was trying to come up to me, with Mo on one side, May the other, and I looked in horror at his hind leg. The whole skin from the hock to the ankle was hanging there, still attached but it had been stepped on by his other hoof, blood wasn't too bad, but Impy was coming to his mom.
I screamed and ran over to the school next door, where mom was teaching, she came, dad came, the vet came and trailered him to the clinic... we were told there was nothing to do so we put him down. In hind sight I wish I had had my own trailer and would have taken him to Dover NewHampshire. Impy was buried that afternoon, just shy of his 5th birthday.
Mo and May stuck with him that whole night, what a pair. From what we can figure Impy got caught in the high tensile fencing, how we don't know, but it cut or as the vets say de-gloved the leg. This is a common injury with High Tensile wire. WE DO NOT USE IT, AND THE TENSILE WIRE WAS HERE BEFORE WE MOVED HERE.
Impy took a big piece of me with him, don't think I every really let any horse that close before...must be because of all the nursing care I had to do with him. I wish more people could have met him...there aren't any digitals of him, I'll have to scan them in.
Which I did today 12 9 09
Handsome gelding that is as ring sour as they come. Beau was sold to my family for $500 in may of 1992. I was in sixth grade, and had been taking lessons on him at a stable in Augusta since the fall. Beau had a white blaze, three white socks, one black one, and a slightly graying mane and tail. Beau was 20 when my parents bought him.
We boarded him 3 miles from the house, at a standardbred farm until the barn just over a half mile was able to have a spot for him in june. I had only ridden Beau outside of the ring once on a trail ride in the winter with my instructor which lasted a whole 30min I think. So now having him at a standardbred barn, where there is no ring proved to provide many memories:) I remember my grandfather having to come up and ride Beau as his behavior was to stop at the end of the driveway and go no further for a 12yr old kid...needless to say he went where Grampa told him to. (Without a fuss).
There wasn't money for lessons, and boarding was expensive which ment I had to do work. I learned how to clean stalls, buckets, harness, and a little bit about breeding. My weekends were consumed by the barn, and my legs were in better shape due to riding my bike up there!
Beau took me from a self concious kid to an outgoing, confident one in the years that we had together. I boarded him at different places as I grew up, was able to work off lessons at some, and able to teach lessons at others.
I remember in the first summer we had him I went to basketball camp, mom and dad said they would check on him daily and take him out for excersize. Dad took him for a two mile run! I remember once when I left him in the pasture at the house, while I ran inside to clean up something, he opened the pool gate, and proceeded to pace mom's plants down, and not use the diving board!
He was always worried about being alone, and was always the one to nicker if he thought you were leaving without giving him a treat:) He was shot with an arrow below his eye, and kicked me in the gut once when I was trying to give him some medicine in the pasture...had a cored apple, moleasses, sugar and everything! (He didn't finish that round of Bute)
There were tons of people I met with him, as we rode on the road. Mary Beth, Julie Zale, Katie T., Lindsay, Meghan Rollins, and many more that were able to see or touch a "real horse".
I also remember the day Dad got me out of Ms. Greene's English class because Beau wouldn't come out of the stall. I was a junior in high school. I drove very fast to Bethany Acres where he was boarded in Winthrop. Larry Buggia met me there and checked him out, hoof testers and all. There was no heat in his legs, but his eyes were dull and he didn't want to step down out of the stall.
Larry said to go ahead and ask him to come down, I did. Beau's front legs went out of the stall, and his back end just sort of toppled over into the isleway. I had never seen this big strong guy scramble to get up and be so much like an invalid. He was able to get up, and we moved him to a stall that was on level ground. Beau was walking like a drunkard in his rear end. I arrainged trailering to ABC clinic where he was treated for EPM.
Treatment was long, and at one point I had decided to put him down, so I gave him a final bath turned him out in the round pen and watched him roll and get up three times. I took that as a sign and asked what the next steps were to be able to get him home. He was to be turned out on flat ground, given tons of different meds, and would have to pass neurological tests before he could go back to a facility with other boarders.
Knowing all this I was able to find a barn here in Monmouth that had only one other horse, and he could board there until he was more stable on his feet. It took until July to get the ok, but we were even cleared to ride again on flat ground. Beau lost a good amount of muscle tone, but it did come back with all the walks we went on, and grooming time spent.
I returned him to Bethany Acres as I had to go on a college visit in RI. While I was away the owner didn't follow directions, which resulted in Beau falling over objects that were left in his paddock. I knew something was wrong with him, I went right up when I got home at 10pm. The owner never called my parents, or the vet. He had suffered for three days like this. He was trailered back to ABC where the x-ray reveiled he had broken clear through his elbow on his L front leg. At this point I knew. He couldn't make it to the cemetary and so they put him to sleep at the clinic and buried him up on the hill.
It was both a blessing and a curse because two weeks later I received my senoir pictures, the ones I had with Beau. Those were the last pics of him.