Here you can meet the current herd of horses. Each have found their way here to stay until their end. They are from all different walks of life, and different experiences.
Howdy
Wanna Howdie Bar AKA Howdie
Howdy is a reg QH gelding that is here to learn how to play the seven games, have fun, and learn to enjoy Harry. Howdy has had lyme disease in 2010 went through treatment, and has tested negative this past spring 2011. Having had lyme Howdy has been off and on lame, but using the "red" light consistantly latelty has helped him to show no signs of lameness:) Look for him in the lessons with kids, and out on the trails this winter.
Howdyy has enjoyed Moony's company actually and is moving much better in the front. He went on a trail by himself this Feb '12 and was a gentleman in every way. The bone setter will be here in the beginning of March to look at Howdie, helping to improve his gaits, and flex.
April of '12 Howdy ventured to an obstacle clinic, he did very well, only didn't care for the automatic bubble machine:) Too many floaty bubbles!
He has become a favorite of many students here, he is patient and very willing to play!
Oct 12' Danielle and Howdie won first place at a Trail Trial in Livermore Maine!!! They negotiated 21 different obstacles, which included dragging branches, tarps, bridges, and ground tying.
Jan 2013 Howdy is doing great, loves all the kids, and the snow.... keep catching him rolling around in it! He is also a fan of warm mash on cold days.
Howdy has been keeping Moony and Arizona in line this spring. They make a really neat herd to watch. Howdie is continuing to expand his show and trail carreer with us.
16' Howdy has really improved on his movement due to being on Protandim, he's sounder and just overall healthier. He loves his lessons especially the treats of apples and carrots after. He also enjoys eating the Jeruselim Artichoke in the front of the barn.
The Protandim has made such a difference on the quality of his life with the Lyme, I'm in awe.
Harry
Harry is a donkey, he is seriously hairy too! Harry has come to us very underweight, but in good spirits. He loves carrots, has no clue about apples or grain and loves to chomp his hay! More updates as we get to know each other.
Harry has definatly become a fast favorite of many, bellowing in the morning for breakfast and for dinner:) Tavish and he are getting along and playing with each other a lot. Harry will be learning about the harness and how to ride.
Harry continues to help us will all forms of chores here.... even sawing wood! Amelia hopped on Harry for a short ride this fall of 12' more time in the saddle will be coming:) Harry is becoming very respectful on the ground, still is the first one to come and greet you in the pasture.
Harry has begun to have riders upon him:) He seems to really be enjoying life on the farm. 2016' Harry is helping to learn the finesse style of horsemanship.
My relationship continues to grow, Harry has shown me how soft I can be to get a response from him. He just is such a wonderful teacher. Finn really wants to ride him more.... I'm thinking we should learn more driving.
Cash
This is Little Cash Away aka "Cash" is a Reg QH 15.2hh that loves to play with his buddies! Cash does dressage, western, team penning, trails, swims, and parades. He loves to "help" you clean out the water buckets, and he loves to swim. Cash is my go to man, if ever in need of a calming ride or a listening ear I can count on him.
Cash really showed me how far we have come in our relationship. Recently went to a show, and we had a blast working together something I hope to continue on this summer.
April 11, 2010 brought Cash and I to a Parelli Clinic. We enjoyed ourselves and are continuing to work on our partnership.
Cash and I are in for the long haul... 8/1/10 it appears that Cash has fractured his elbow area, and is in solitary confinement under the stair stall with a small turnout. He isn't thrilled with this whole idea, but he is appreaciative of any peppermints given. I should know more tomorrow about the extent of his injury.
Mr. Solitary Confinement lasted a few days, then Zona went in to keep him company. Cash became very depressed, and his whole leg began to swell. I made the choice to turn him out with Zona and make the side field accessable to them both. When this was done he began to move more, and has no swelling of the lower leg. He does however still 8/26/10 have a rather large hardspot, and slight heat at the elbow site. The xrays showed no signs of fracture, but it appears that he may have fallen doing a "split" with the front legs.
NOW the only place I can think he did this was CLIMBING IN THE WATER TUB. Yes my horse climbs himself into the water tub to splash himself... I have witnesses!!! Best guess is the goober stepped in and then slipped, much like an older person falling in the tub.
Oh well, we are doing arnica, massage, and possible labotomy...
Feb '12 Cash and I went to Glowin' Dreams Farms to participate in a "Making your horse your partner" clinic. Cash's on the ground savvy was super, in the saddle was a little less! Cash had previously been there about 8 yrs ago to pen and sort cattle... he seemed to think that was what was going to happen again and had some fear issues. We played through them and worked together making for an overall super day.
Cash and I had a Liberty lesson with Pete Rodda when he was here in June (2012), lots of running on my part..... We have been practicing, and it is really paying off. He is struggling with elbow scurff which is making me ride bareback more often increasing our communications:)
Made it to the spring AQHA fun show in Litchfield this year, Cash was very good to help Howdie and the other students around. Cash is enjoying the small amount of pasture that is available now.
Summer 14' is coming on fast. Cash has been instrumental in teaching the younger horses that its ok to go on the road, and that vehicles don't eat you. He is my solid rock that I can count on to help me when needed, show me when I need to learn, and guide me when I'm lost.
Fall 16' Cash was slowing in the spring, but since being on Protandim he's come back with more movement and energy than the young horses!!! He's gray around his eyes, and such an amazing partner. The Protandim has also removed the elbow growth that has been there for years. He is doing well through the winter, and is shedding out now.
2021- Cash has slowed a little, time has been fair to him. He enjoys his alfalfa, solitary eating in the isleway and goats helping to clean up what he drops. He has begun to give lessons to littles....
2022- Cash continues to give lessons to littles, and has hadto say goodby to his friends Tavish and Moony. He did cut his back left foot this winter, needing stitches, and had a hard time recouping after. He has begun to get back to his old self, even got to have some pics with him:)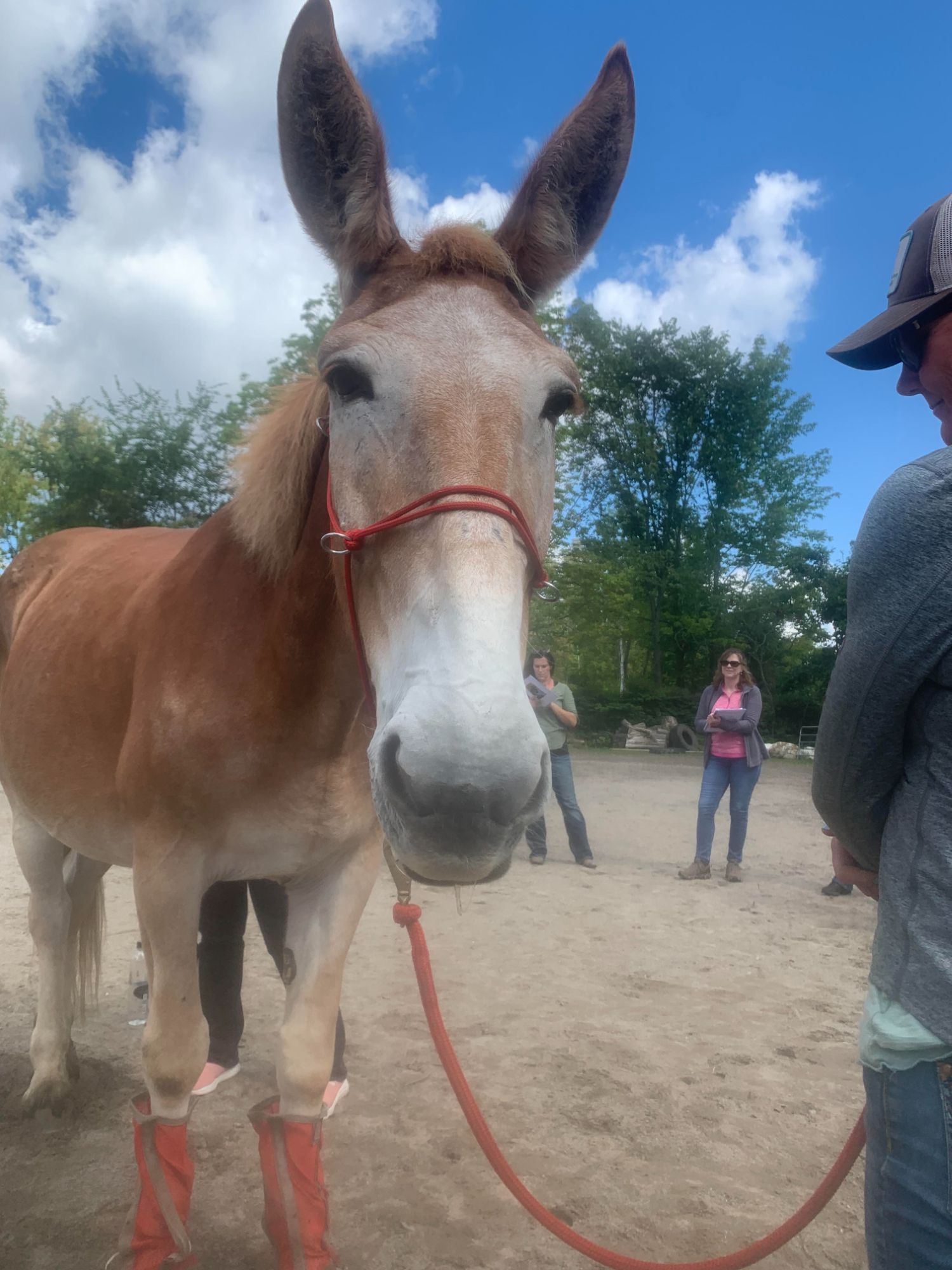 Ruby
Ruby is a belguim mule, she is over 30 years old! Ruby is in love with Harry, and is very concerned if he is out of her sight! She is fun to ride as long as Harry is going too... Loves her ears to be scratched, groomed, and carrots.
Ruby rides, and is able to drive too, but her personality is big to be next to Taz...
Lassa and Thunder
Lassa is the red dunn, Thunder the black. Both are older gentlemen above the age of 25. They ride bareback, and saddled. Pleasing dispositions, and very thick winter coats!!!
Lucy
Small yet very big attitude,.. Lucy drives and enjoyed her time at Popham Beach this winter. She is extremely food oriented and is not a fan of grooming her belly or back. She is working through her issues, and making progress.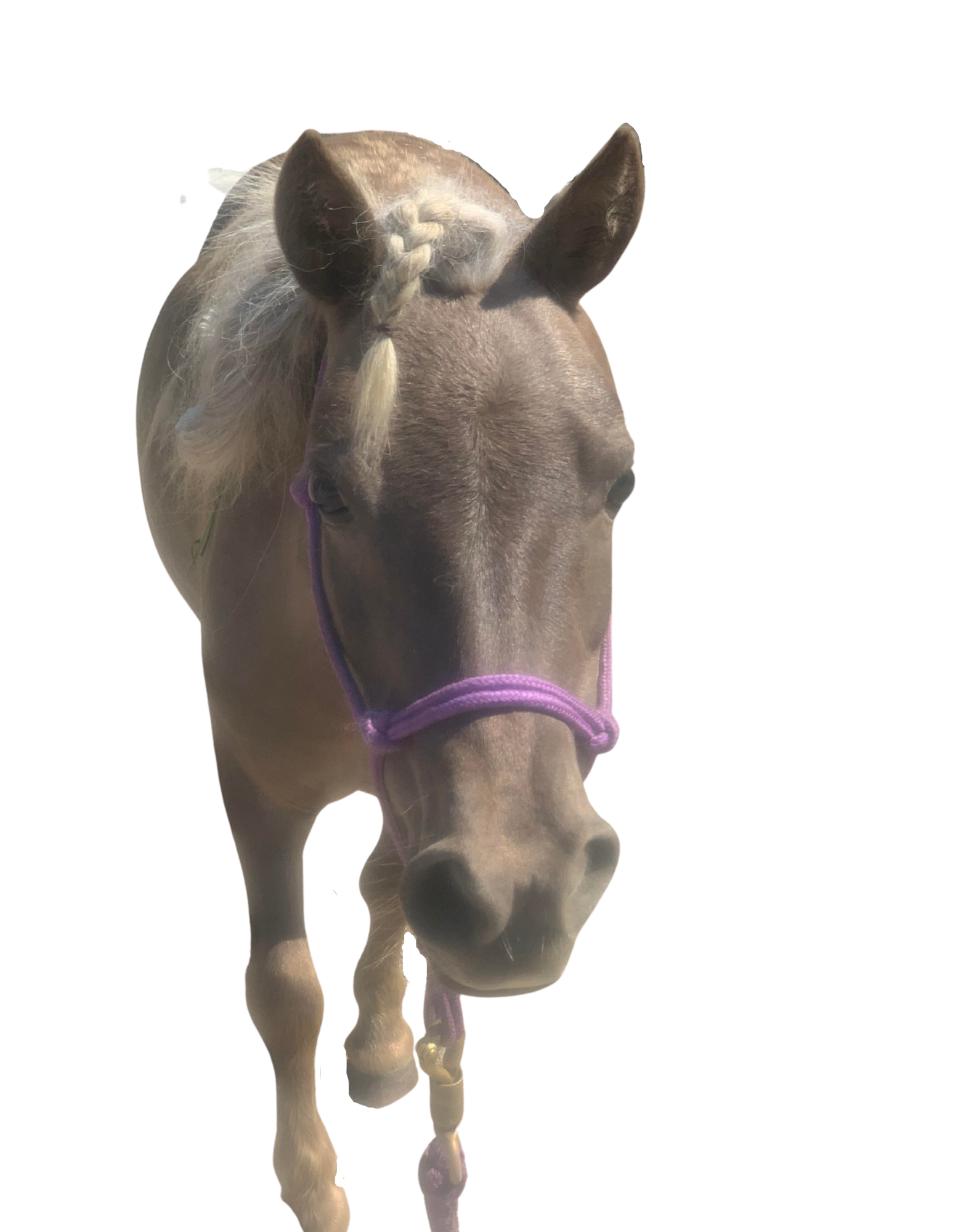 Jazmine
She is almost as round as she is tall...and on a diet. Jazzy will drive you all over town, she is very social and fluffy.
Jazzy is an escape artist and keeps us on the toes with fencing.
Heartbreaking
Standardbred gelding that raced up until fall of 22.He has transitioned to the life of a horse very well. He carries riders with confedence and leads the group with the long strides that he has! We have hooked him up to the cart a couple times, and he has done so well.
Taz
Belgium geldings that ride a little and drive a lot! Both are settling in here and are enjoying life. 10/21
Dillion was diagnosed with EPM in the late fall of 21. This disease had been with him for some time, and unfortunatly took a turn for the worst in the spring of 22'. Dillion was laid to rest 6/17/22.
Taz was able to say goodby to his life partner, and with the help of the herd is managing. Taz continues to learn more about riding, and is loving the trails with his friends. He moves slowly and cares for his riders.
Taz went to Popham beach in 2023, and enjoyed the ocean. He is an old soul for sure. He is a crowd favorite at any event, and a true gentle giant.
Amelia used him in the mounted shooting clinic this spring, he was a trooper, but it is not the niche he likes!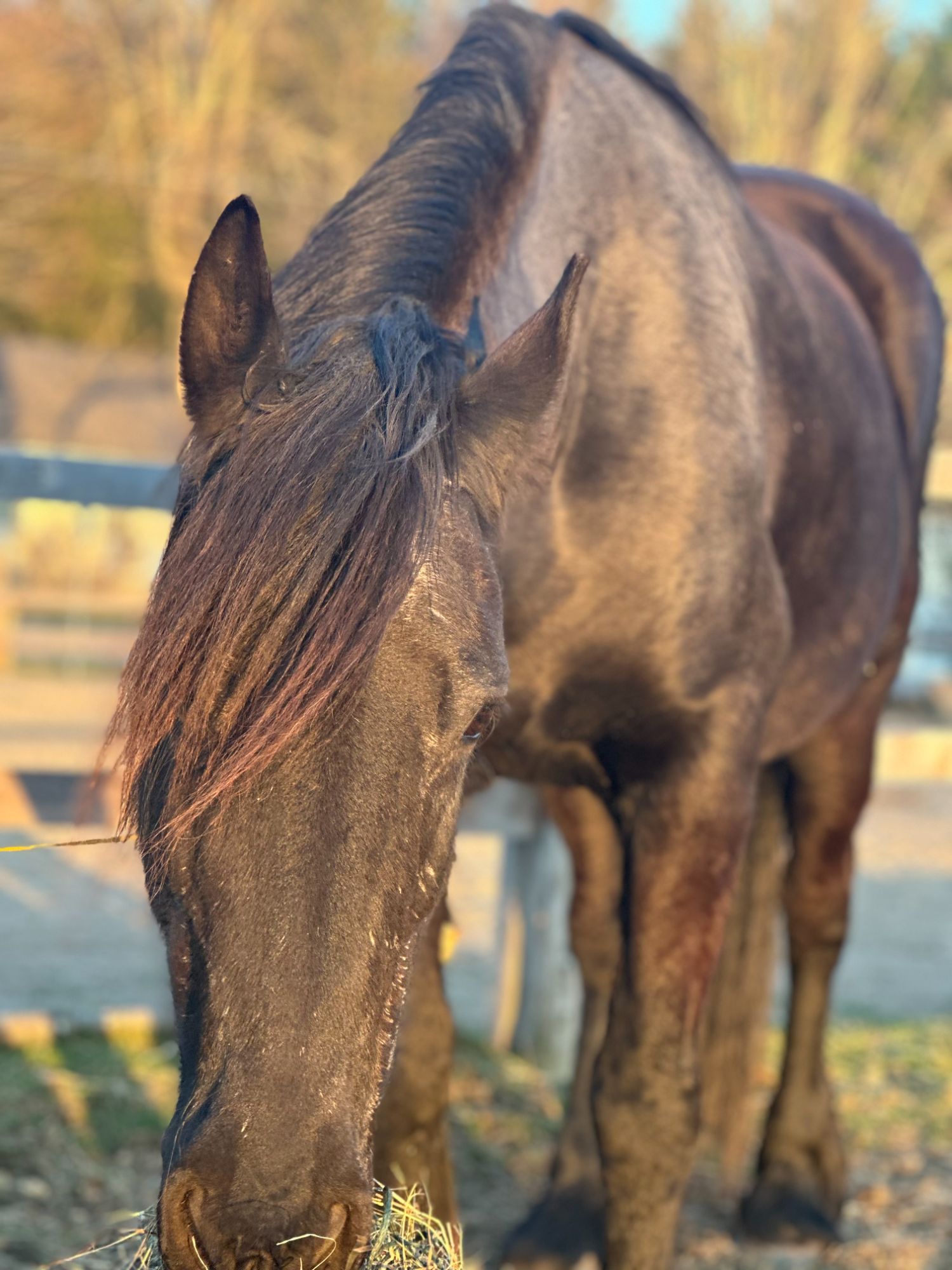 Maya
Freisian mare, that is new here in the spring of 23. She is fitting in with everyone, is enjoying having her hay buffett and boys to play with. She is riding with Haley a lot, and is learning that the schools next door have loads of kids in them.
Wrapper and Cecil
Wrapper born 4/5/12 is a Registered Paint Horse that is now a member of the family. He is very laid back, friends with Harry, and recently took his first dip in the Lake.
Well this is the most laid back horse I have ever played with.... he is scheduled to be gelded in Feb, and then we should see him sprout right up! He is still best buds with Harry and working his way into Sue's heart too. He has gone on three trail rides, and also worn a saddle. He was a gentleman for the Farrier too. Dentist is up next.
Wrapper was gelded in May 2013, a trooper for the whole experience... included shots, and wolf teeth removal. He was able to introduce 60 first graders to horses at the "Farm Days" for HLC. Wrapper felt so comfortable he was rolling around! Wrapper has continued to grow into a confident two year old. He is showing that he is ready to learn driving, and by summers end a possible light ride.
Summer '14 has fast approached. Wrapper is able to go over all obstacles in the ring, down the road, do basic long lines, and mow the lawn. He has sprouted up, and begun to take on the look of a "horse" rather than a baby. I'll be doing more long line work with him this summer.
2016 Wrapper has taken to riding like a fish in water. He had an adventure at a different barn for two weeks, and was a super star.
Spring 2017 Continuing to learn how to carry on whilst commotions prevails! Fast Forward to 2022....Wrapper is a fully functioning memeber of the barn, and will be here permenantly. He is working on collection under saddle, has moved to the on off leading of the herd with his brother Cecil.
Cecil is Wrapper's full brother! Cecil is a laid back kinda guy. He is able to go into the ring and on the road. He still doesn';t like carrots or apples yet:)
Cecil is now three years old, he's continued to learn the seven games, beginning to wear saddles and harness. He enjoys trails and is fine with traffic.
2017 Spring: Cecil has matured in to a robust looking boy. He is still intact and has wonderful manners. He will begin his saddle training this spring, lightly. He will also continue to learn more about driving and hope to get him dragging the riding ring soon.
Cecil is riding in the ring, on trails, and with others. He continues to learn and is a favorite with the obstacles. '23
Goats: Macaroni, Chickoree, Sasafrass
Macaroni is 15 as of spring of 23, he is old. Sass and Chick are the psudo goats... they won't climb the stairs or ramp. They bellow until we let them around the gate.