Goings On
Choosing to continue your education throughout life is an important tool to attain your goals. Here at Blazing Star Stables natural horsemanship is practiced both by myself and students. Students are able to join in any clinics that are offered here, and those clinics that are offered elsewhere.

I have chosen to take classes and continue education as a role model and inspiration to my students.
Monmouth Fair 4H Horse Show 8-5-2009
Weather was a blistering 80F and sunny as could be! Showmanship classes were a bit hot, and the kids did great. Addie, Kaitlyn, and Courtney braved the day with Dobbin, Brody, and Moony. We did have a HUGE thunder storm after lunch, but waited it out like true Mainers and proceeded to show again after.
Had to put this in here... where else can you watch a floor swallow a person. Well, we broke the floor dropped a round bale on it and . Mike and John repaired it, along with some help from Amelia who is quite the builder!
Snapshots of the recent show here on October 25th... where much was learned by everyone! Partnership is the key to making a relationship work, along with consistant communication. There were combinations of horses and riders that had only worked with each other a handful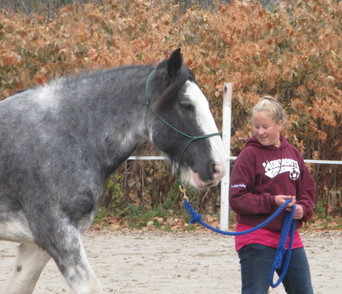 of times, yet proved they had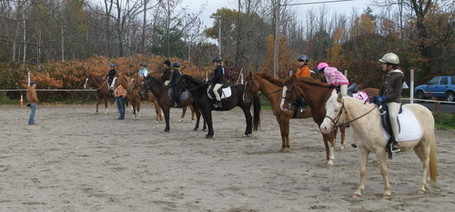 control when new horses were "visiting", calling to each other, and stressed by others different styles of "handling".
I believe that everyone walked away from this small fun show with a new found understanding of what works for them. Some people are riders only, while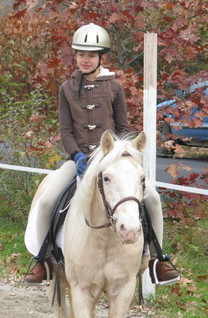 others are striving to better themselves and become a true horseman, advocating for the horse which incudes the respect of the horse.
I am very proud of my students for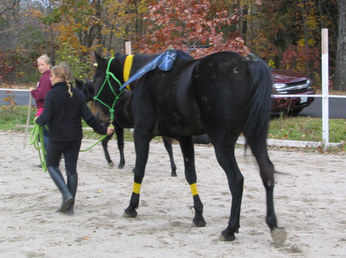 their constant awareness of when they or thier horses became confident, unconfident, relaxed, nervous, and/or zoned out. To me being able to understand what horse is present under you is when the most learning and teachable moments surface.

Monmouth Fair Open Horse Show Wednesday July 30th 2008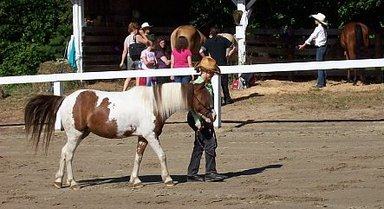 Whit, Kerstin, Addie, Chauntel, A.J, James, Emily, and Amelia all participated in grooming, bathing, cl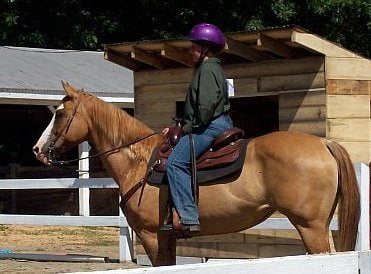 eaning, and preparing the riding ring now at the fairgrounds. This was the first "open" horse show in years at the fair, and it was a smashing success.
Moony wanted to check out the rides at the fair and went for a little run in the midway, Soliel wasn't too keen on the stall accomadations, and Cash wanted to be with everyone all the time...even if he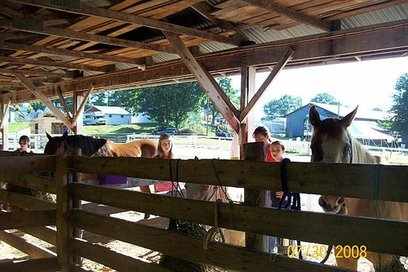 wasn't supposed to be. Meanwhile Arizona made sure that not a single piece of hay was left over or would go to waste and even toted Amelia around the ring a few times.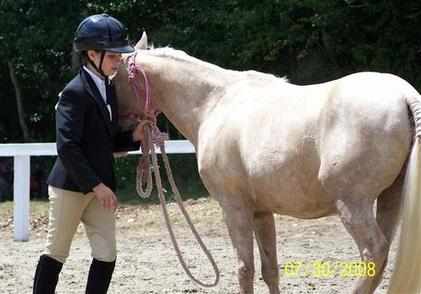 The kids were responsible for doing everything themselves, including tacking up which proved to be a bit of a challenge without me right there. We are now more prepared for the next show in October.
4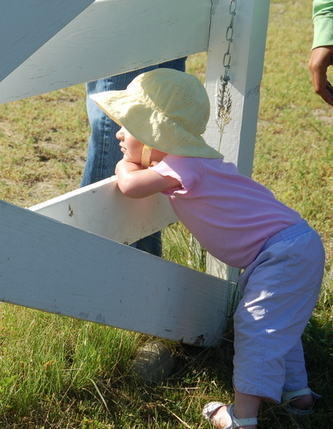 H Summer Camp (June 13-15 2008)
Windsor Fairgrounds were once again home to the Kennebec County 4H Horse Camp. Weather was super on Friday and Saturday...Sunday brought refreshing rain with some long downpours! Kerstin,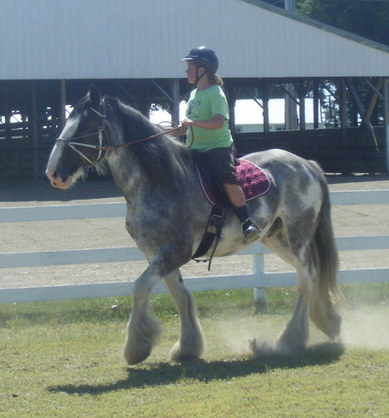 Maddie, and Whit packed up all the "horse stuff", loaded the horses and off we went! Everyone made it to Windsor safely and was tucked in for the night...Cash and Tavish decided to spring out and enjoy grazing early in the mor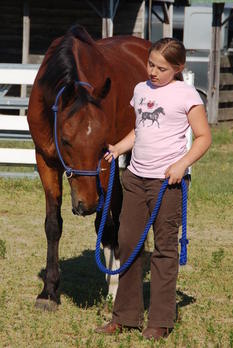 ning Dobbin on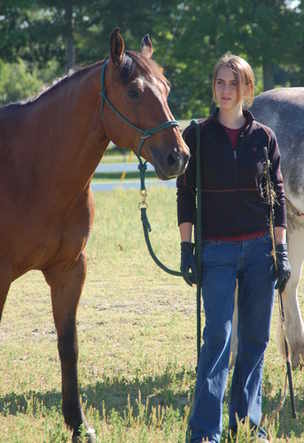 the other hand thought it better to stay in his stall even though Tavish had taken down the gate.:)
Dressage, games, jumping, anatomy, driving, and teamwork were all taught at camp by different instructors. Even the little ones liked it!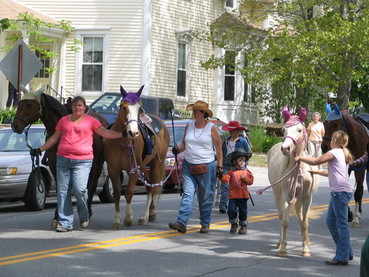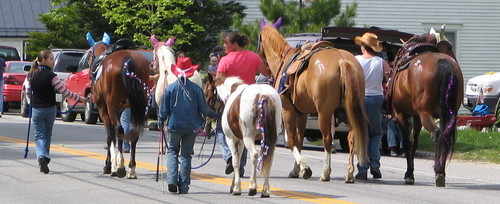 Memorial Day 2008 Parade was blessed with wonderful weather, great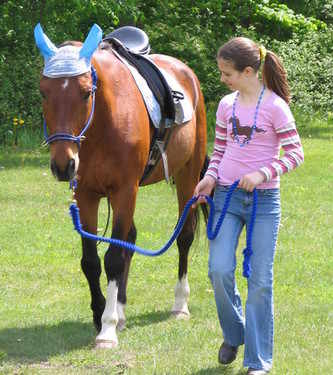 friends, and family. Moony, Cash, Arizona, D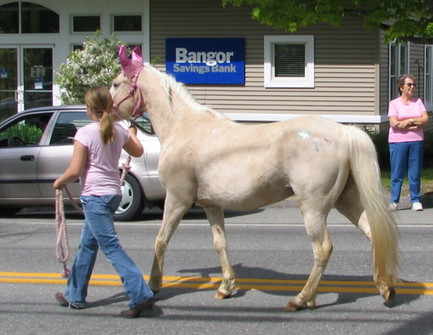 obbin, and Soliel were groomed up worked and then lead down the road to Cumston Hall where the parade would start....all made it through the Parade then to the beach, and finally on the way home we were all blessed with Murphy's Law when an F-16 fighter plane flew right over us in the middle of the parade! All in all we did well, no one was hurt but horses were definatly ready to go back to the barn.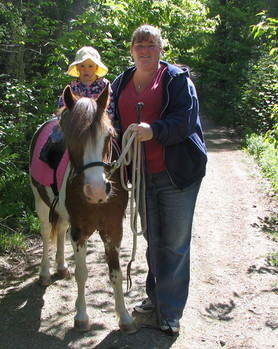 Amelia, Grammie, Grampa, and Mom went up Mt. Pisgah on Sunday morning. Arizona was super going over all the rocks, and putting up with t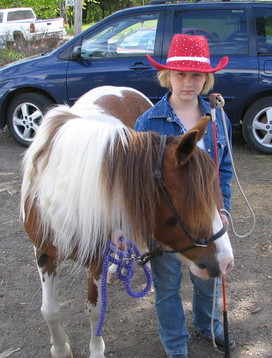 he black flies... I thought at one point they might carry us away! Zona is worth her weight in gold
Parelli Instructor at Blazing Star Stables!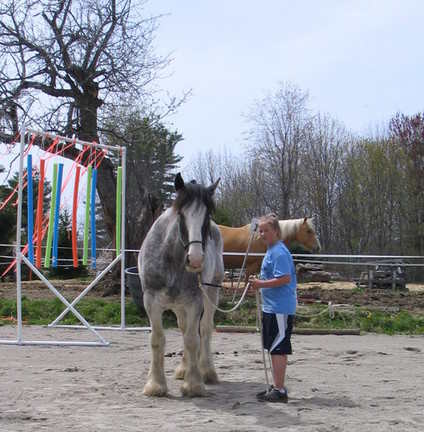 May 9th, 2008 blessed us with a super clear sunny day! Gina Torrell of PA travelled to the barn to present us with a day of Parelli Games... what an awesome time all had! The seven games were explained in detail, practiced with a lot of effort, and enjoyed by all. Gina will be coming back this fall to continue the Parelli Level 1 Certification and Parelli Level 2 Certification.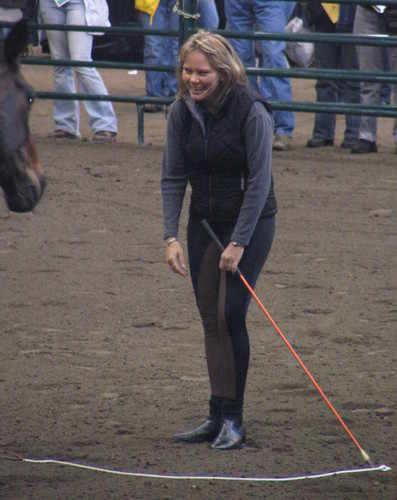 Parelli Clinic in West Springfield Mass.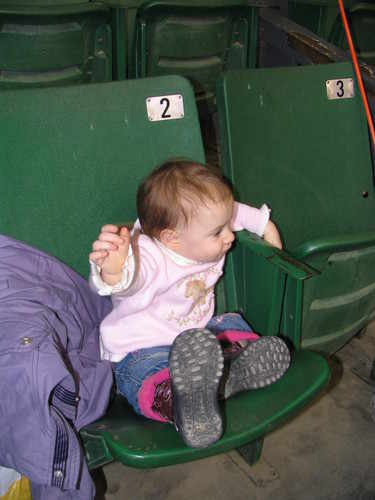 April 11, 2008 Addie, Whit, Amelia, Kerstin, Kerstin's Mom, and Myself all braved the highways and toll booths to go see Linda and Pat Parelli. We all waited in line (we were in the first 15 at the General Admission Side) due to our devote planning and patience we snagged some super seats that were ringside! There were 3000 people there.
Pat and Linda along with many different students showed us all how to work and play with our horses on the ground! The style that Linda and Pat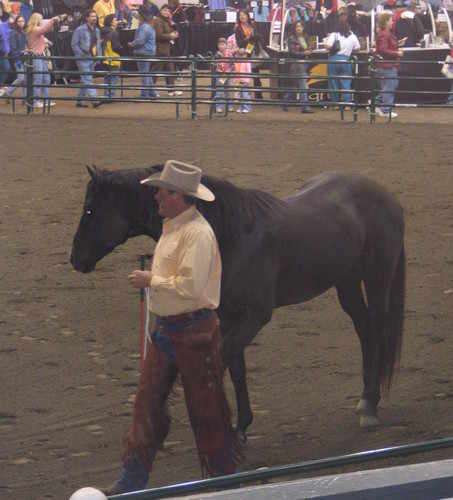 show is non abusive, gentle, and succsessful for all ages and ablilities.
Sunday brought Kerstin, Whit, and Chauntel to the barn for "games". All were successful in thier Driving, Porcupine, Friendly, and Circling games. The car wash, teeter totter, barrels, and jumps are up and ready!
3/15/08 Addie, Whit, and parents attended a clinic by Chris Lombard, a fellow natural horsemanship instructor.
In this clinic Addie worked with Dobbin, and I worked with Cash. Both Do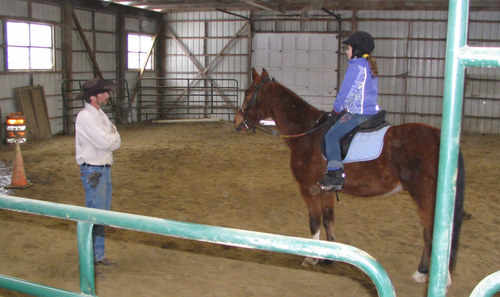 bbin and Cash were troopers in the trailer, with the small storm we had that morning!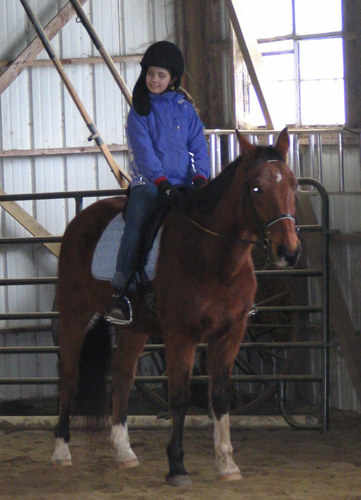 Addie and Chris decided to focus on confidence for herself, and working with Dobbin's head pulls. Chris was patient, listening to Addie's questions and concerns…he also herd Dobbins rather loud whinnies in his ears! By the end of their session Chris had successfully combined these two into a real team working with each others strengths and Dobbin had relaxed enough so that he wasn't even talking! Kudos to all!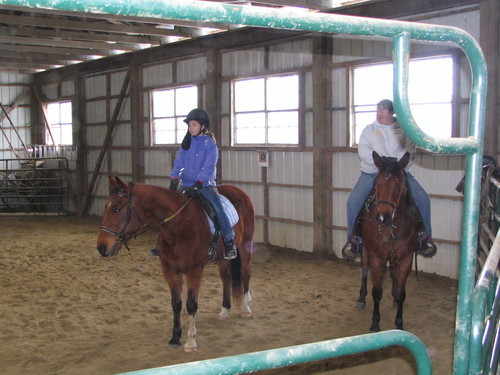 I asked Chris to work with Cash and I so that we can begin to attain our goal of bitless/bridless riding. I found it helpful to have another set of knowledgeable eyes and a wealth of different skills or drills to work on. Chris was able to give me the boost and desire to get going even more…now when will SPRING get here???