Tavish
Tavish RIP 10/1/22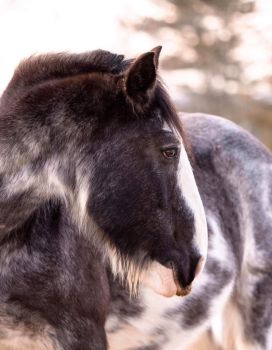 Tavish began to show signs of epm in August, and a growth was noticed on the back left ribs. His gait changed as well as his standing in the herd. Tavish moved to the "old man" side of the barn, and continued to decline. He was a trooper that allowed us to tip him on a cow table to trim his feet.
The decision was made that his comfort be paramount. His mind was so sharp still, but his body not. Miss you bud.
Clydesdale gelding. Tavish arrived on Groundhog's Day 08.... he will be working on gaining weight (about 400lbs needed), getting rid of the rain rot, and working on those feet manners. Tavish was a super trooper and had his teeth floated, feet trimmed, feathers treated, and MTG applied all in one day (Feb 4th).Picture below left is Dobbin and Tavish March 08.
Tavish has really become a light gray color this spring, almost white! Tavish is learning the Parelli seven games, and is progressing nicely. He loves to be groomed and will stand nicely for a bath. Tavish is working on picking up his feet for us and learning about our personal bubble. Tavish is still unsure about a rider, but once on he loves to take you anywhere. Kerstin has been working the most with him, and just rode him for the first time this week (May 15th) for a small jaunt around the schools.
Leaps and bounds for Tavish. He was recently adjusted by Doc Terrell, and thus able to pick up his feet, resulting in s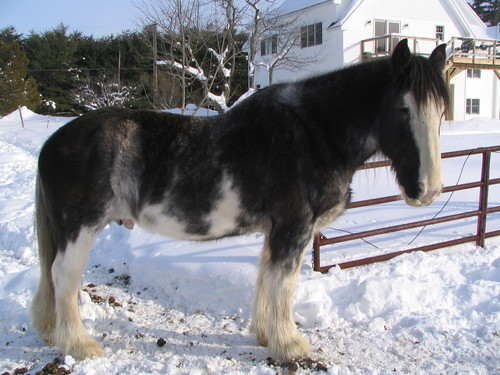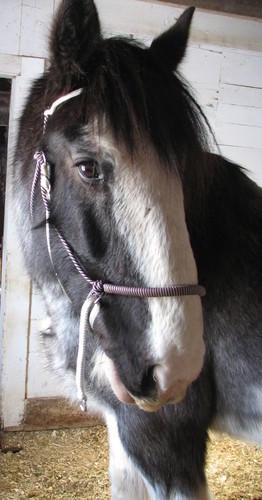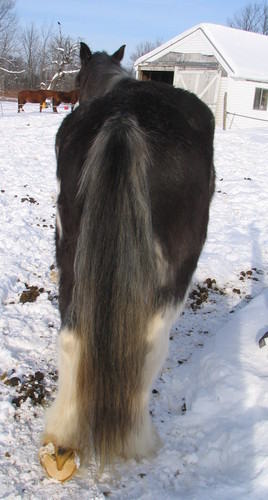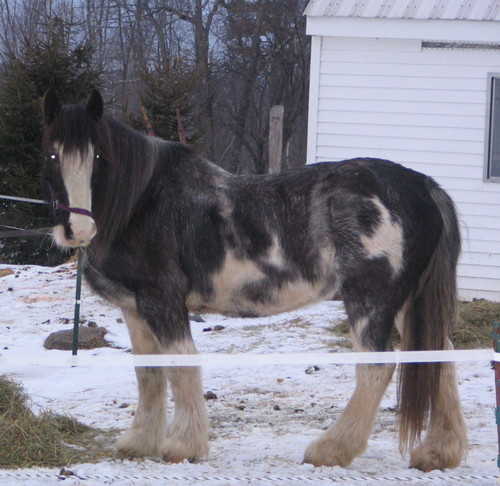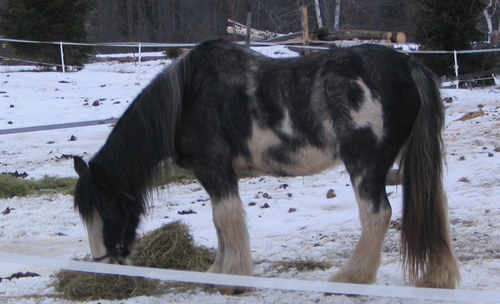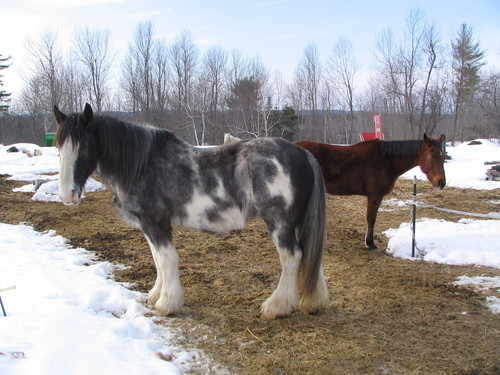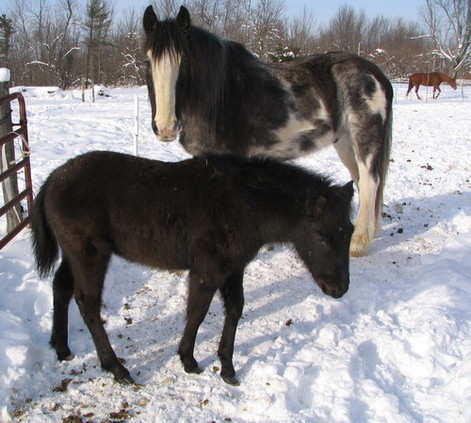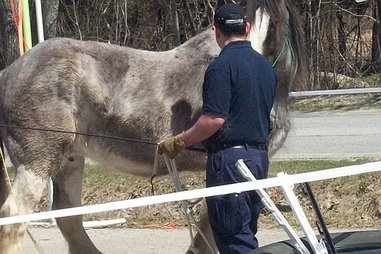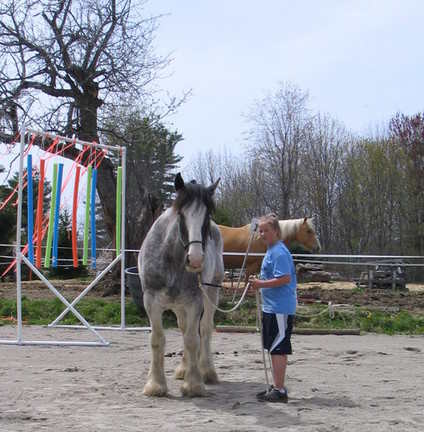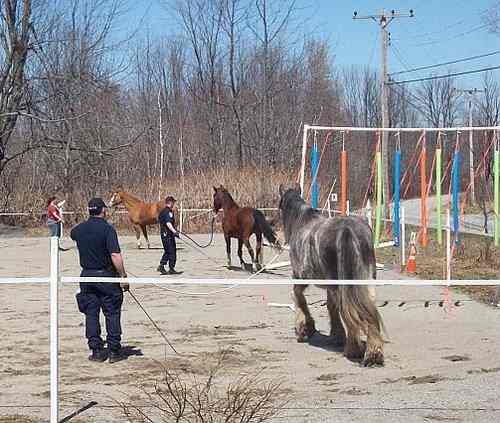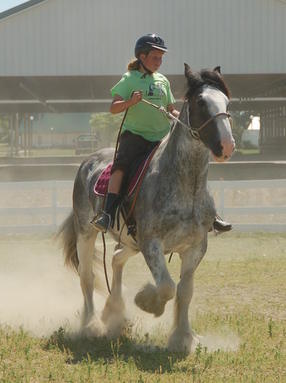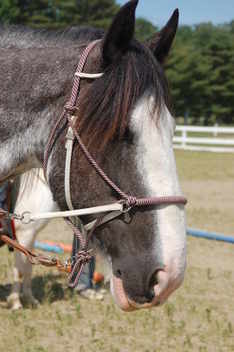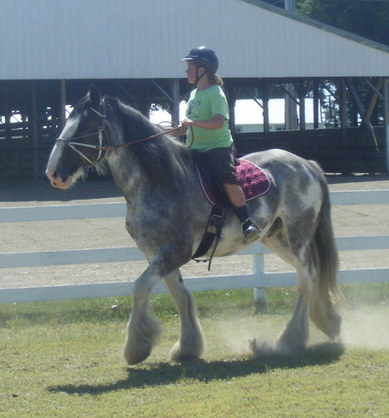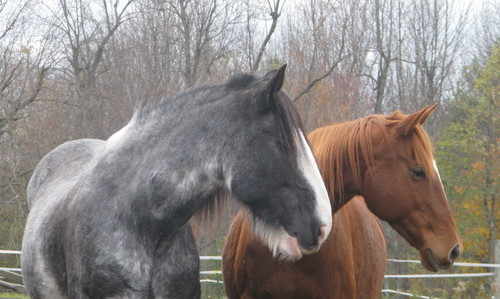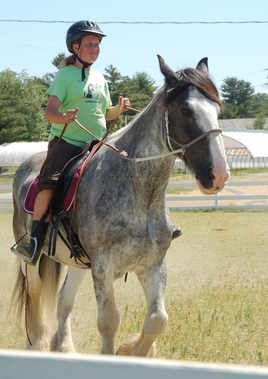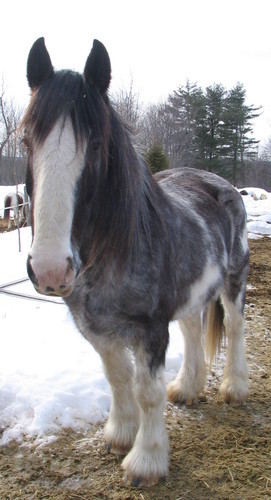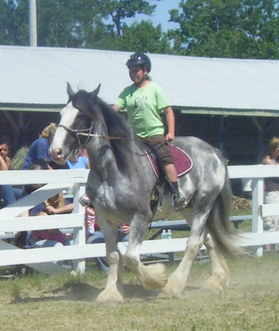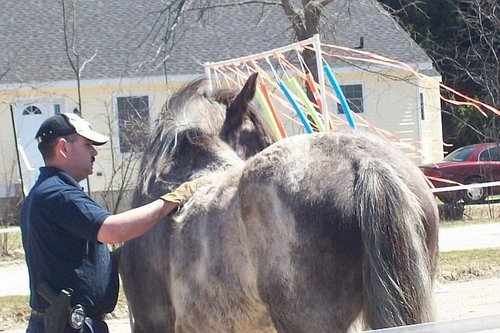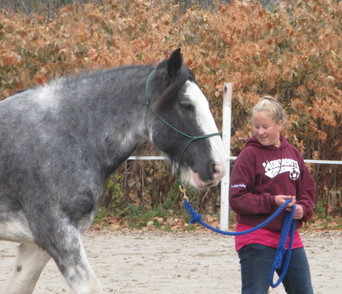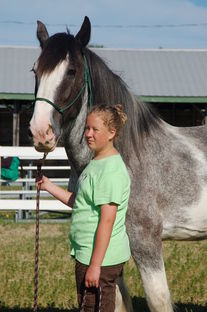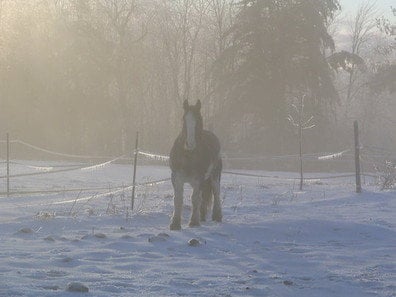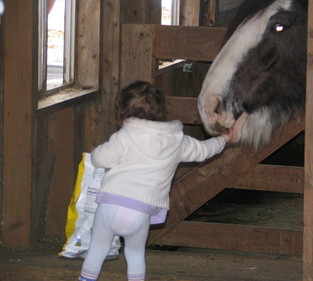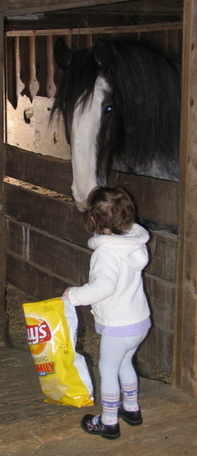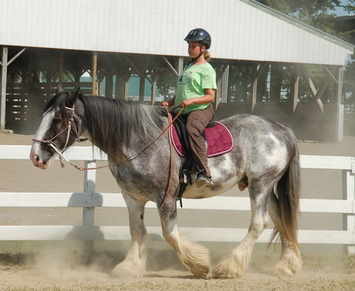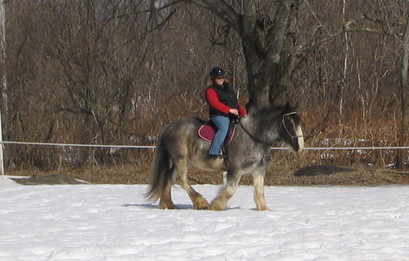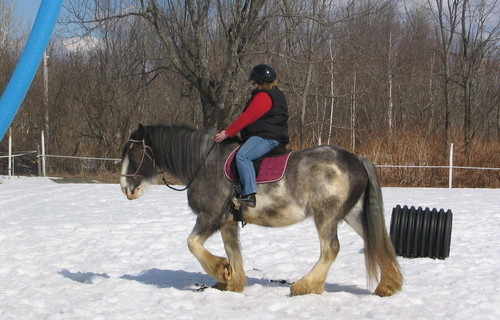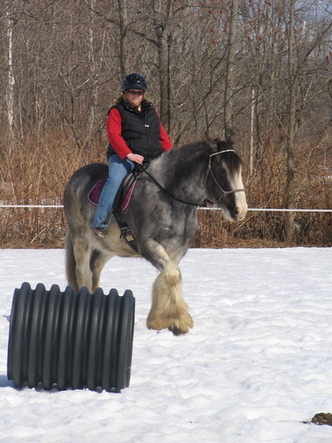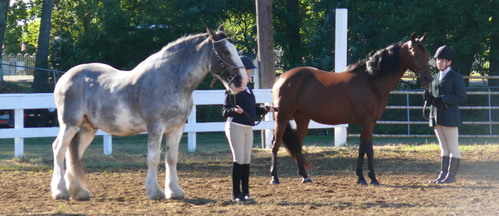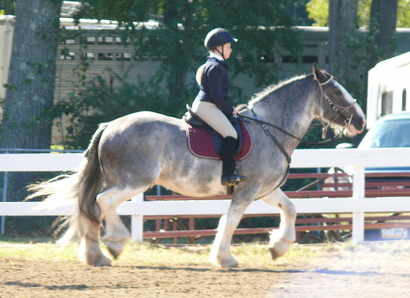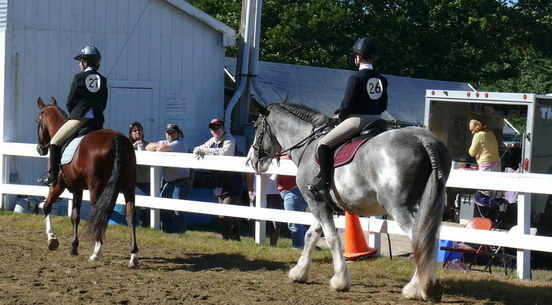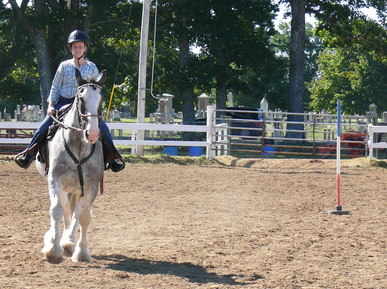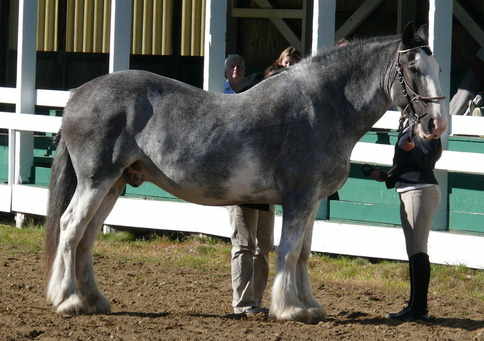 ome much needed farrier work. His lameness has improved as well with the adjustment, and was again Sept 11 adjusted already we are seeing more improvement in the lameness. Tavish looks like a canadate for vaulting.
Tavish went on a trail this past weekend (oct 08) and loved it! We went up into the apple orchards, and back down the roads. Traffic isn't an issue, but being so high up his riders really have to watch out for branches!
Tavish is learning to relax with riders, and has become a regular favorite of students. He has such a gentle personality. He is also getting the idea of having his feet trimmed, and holding himself up. His lameness is gone, and he is playing with Cash on a regular basis. He does however run away from Arizona.... the Squirrel King.
Spring 09 has brought Tavish full circle. He now is ridden regularly both on trails and in the ring. Jamie is leasing him and spending tons of time to build the relationship. He is super motivated by food... hmmm wonder what we could get him to do.
Summer 09 Tavish now rides with a full cheek bit, and is so soft in the mouth. He has a driving harness too, we will be working him in that soon to see what we can do.
Trail riding and offering rides to Amelia and Carter are high on Tavish's list of loves. Jamie is working on cantering and troting for longer periods of time, and including patterns in her work. Not to mention that Tavish now will stand for a trim of the feet in 20 min flat~
Winthrop Parade on 12/5 was once again graced with Tavish's presence.... he lead with everyone following the huge red bow on his tail.
Parelli clinic with Tavish went well, he trailered like a champ and was well mannered. Jamie had some fun breakthroughs with him and is continuing to work on their Partnership. 4/11/10 Memorial Day 10' was super for Tavish... he is such a mooch~
Tavish is working in harness now, from Sweden. Its a very unique harness that is light enough for kids to be able to put on. He is lilking being able to play and run with the young horses. He's also loving the burdocks!
Tavish has really been able to heal from the inside out while on Protandim. He is moving better overall, running to be first, playing, and kicking his heels up even farther. He carries his new riders with an even better confidence.
All four feet. Yup all four he lifted and let the farrier work on this Feb 17'. Thats such an amazing thing for this big guy. He's really shedding out now turning everyone into a hairball that comes near him.