Barnyard Gang
Horses: Click on name to see their page
Goats!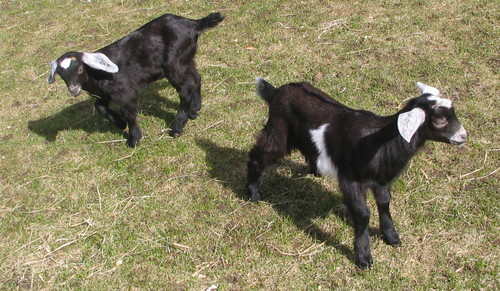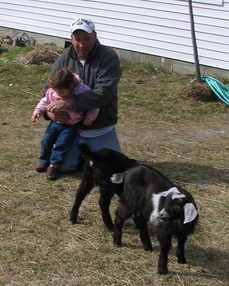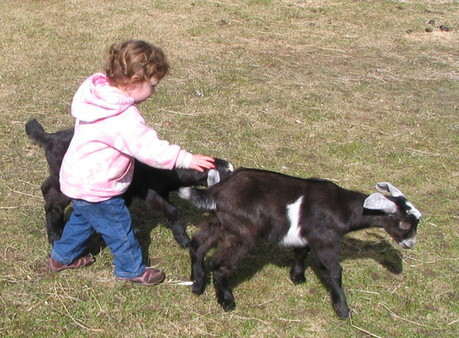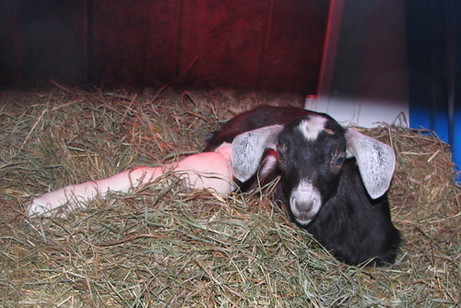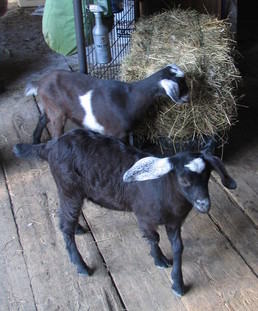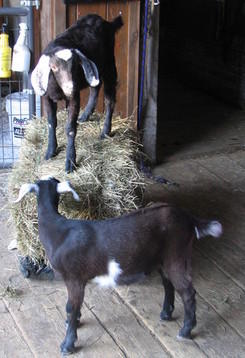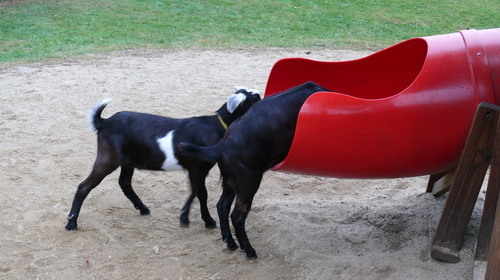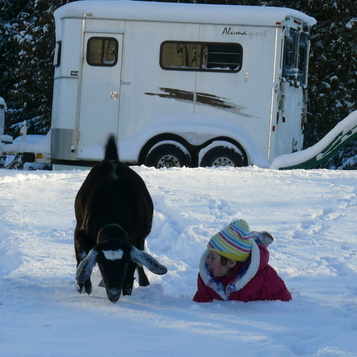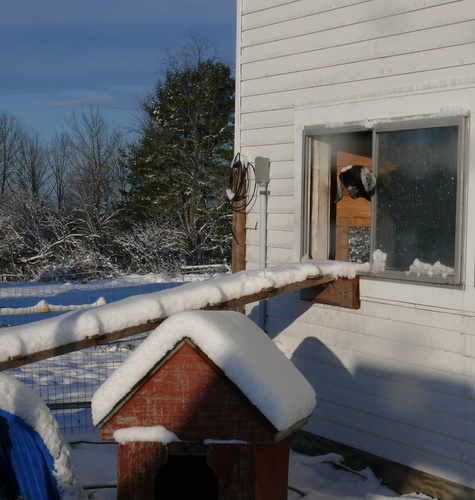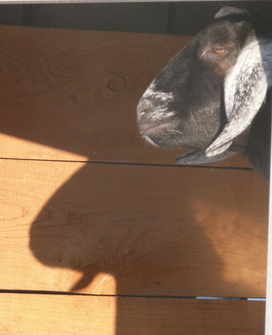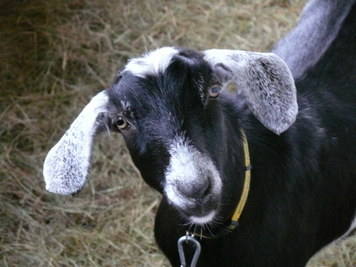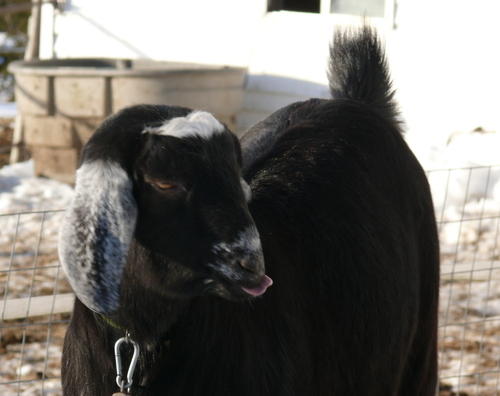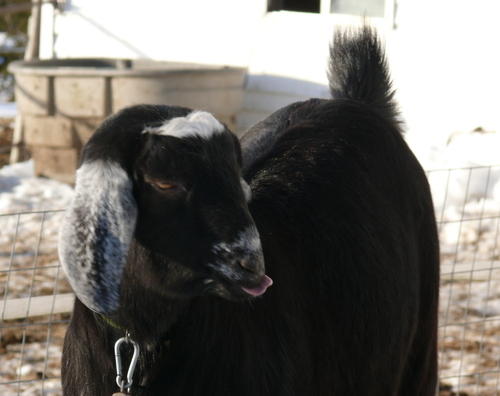 There are now two goats residing here, Ike and his brother Mac. Mac has white on his sides, and a cast on his right rear leg...Mac wandered into Annies pen, and she kicked him. He broke the leg and even with a cast on is still managing to hobble around after his brother! Amelia likes to feed Ike his bottle, and we have to watch out that they both don't share bottles.
Goats have grown quickly and Mac is due to have his cast off on May 4 09, he is ready. The cast hasn't slowed him down one bit!
Mac is learning to walk again after having his cast off. He still holds the leg up when resting but is making slow progress. The two of them are very social, and acrobatic!
These rascals now enjoy running around the barn, and the playground next door. We can't wait t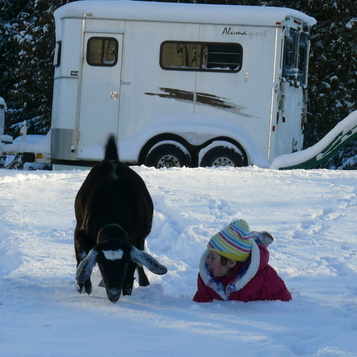 o see them this winter on the snow. I also want to start hiking with them.
Summer has brought many different hikes, Mt Pisgah was a blast, and they were even off leash when we went! I am looking into dog packs for them to wear and harnesses for their training.
As for snow... they don't like to come out for it. I did however purchase a blanket for them, and they ate it...so they'll have to learn to like the snow!
Both Mac and Ike had a bath today July 19th... both actually stood there and loved being scrubbed. I thought that they would be more to handle with the hose and soap... tells you what it is like when the relationship is first!
Sad to say that Ike passed in the spring of 2020, he had a quick decline of body, and then perked up a bit one day, followed by passing. Mac has managed to maintain himself through this winter.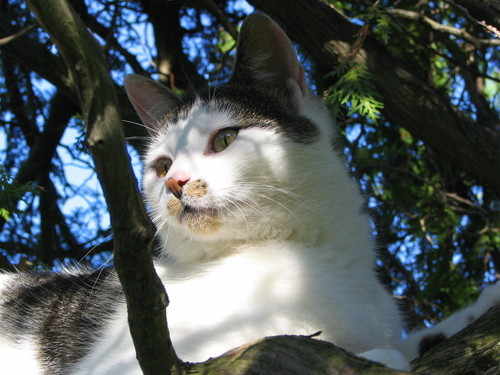 This is

Smudge

he is keeping watch ov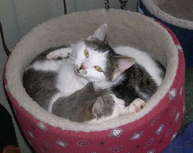 er the stable from the tree tops, and being a super mouser! Sadly Smudge dissapeared this summer '12 we miss him quite a bit.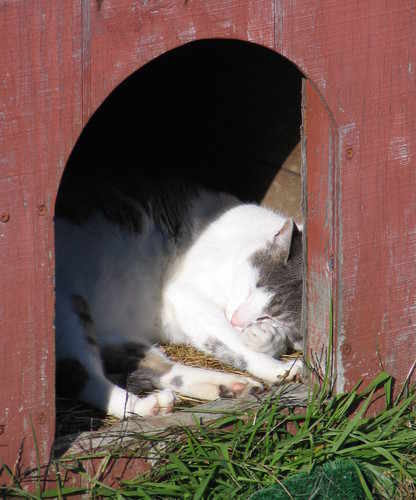 Wheezer is here... sleeping so as to be up for the mousing at night with his brother Smudge.
Wheezer was put to sleep this fall of '17.
Animals that have made thier way home!
Presidential Sugar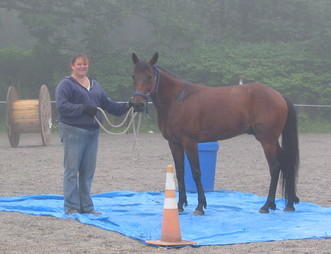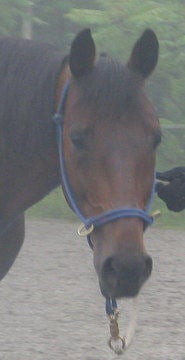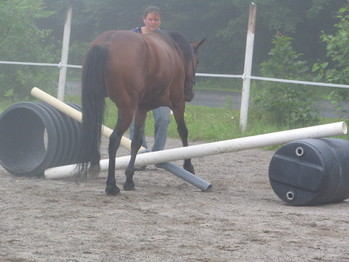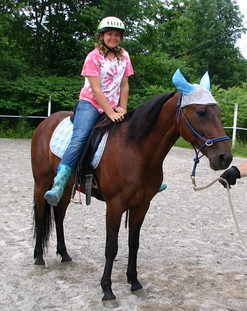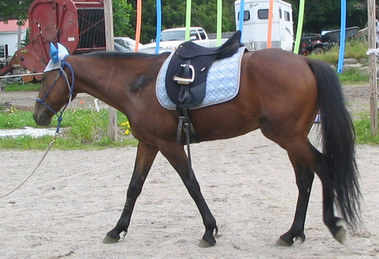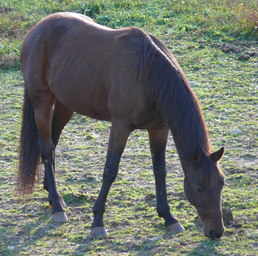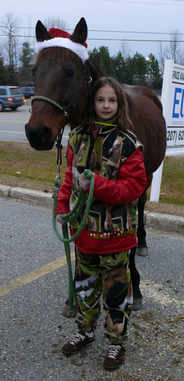 Sugar is an 11 yr old STB gelding that wasn't fast enough on the track. He came here on July 18, 2009. He seems to be a L brain extrovert, and a fast learner at that! Look to see him in the saddle soon. Sugar took to the saddle like an old pro, KK had a wonderful first ride on him. Sugar enjoys the trail, and going out with everyone. His big scar on his L shoulder showing some re-growth of hair, and we have found that it helps him to have support boots on while riding. Sugar is a L brain extrovert. Sugar has proved that he is just so patient. He will stand for a long time to be groomed, is still lame on his L front ankle (which we are waiting to fuse) and could really have some go if we needed. I find that the boots put on his front help with support if going on the trail, but are otherwise un needed. Sugar was in the Winthrop Parade on 12/5 and after the first few minutes of jitters was a perfect gentleman for Jenna. Way to go!
Sugar looks good after winter, but is still a little lame. Alas it doesn't look like he will be able to carry a heavy rider. I am at a cross road point with this gentleman. GOOD NEWS! Vicki and Bob have taken Sugar into their home and hearts to be a horse for their grandchildren, and a playmate to their Arab/QH cross horse Lightnin' Jack! Sugar made the trip to his new home in Wayne with grace, and has been enjoying the lovely pastures provided! I will keep you updated as to his adventures. (Honestly this was the first time I'd not cried when saying I'll see you later to a horse, must mean he's in the right place:)
Soliel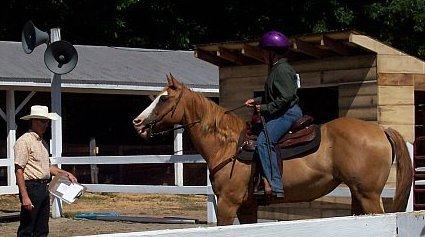 Soliel is dun mare with a blaze that arrived on March 14th 2008 and is looking forward to living like a real equine princess!!! She has adjusted to living the good life and doing a few lessons with kids now and then. Soleil has even added showing to her resume, and is good at telling the judge what she thinks! Soliel made it home on Dec 13th and has Moony as a companion... the two are loving the round bales and are getting used to the dogs, kids, and lakefront. Moony has recently taken to sneaking out and then back in again... the only evidence is the poop on the wrong side of the fence!
Zeus 8/19/10
Zeus is a Percheron/Paint cross Gelding age 7 that is here for some playing, for both himself and his family. He is a big boy that likes apples, and is deathly afraid of Mac and Ike...he looks alot like Mac himself.
Zeus is a right brainer, and very unconfident if left alone, even though he can touch over the fence. Moony has graciously accepted the "babysitting" of Zeus and is turned out with him for now. He will be slowly get introduced to the herd over the next week.
Even though there is hay, and grain served in the stall Zeus won't go in by the goats...Zeus scared Ike so much with one of his "running away" moves that Ike jumped out the goat pen, now talk about goat wrangling, that was a riot!
Moony has shown him that he can go in and out the door by the goats, safely. I don't think he really believes her though.:)
Due to Zeus displaying dangerous behavior towards Dobbin and injuring him I made the choice to ask him to leave. It is a huge responsibility to own a horse, and included in that responsibility is spending time with your horse. Zeus is a very smart horse that needed to be played with at a regular interval. The behavior displayed by Zeus included running Dobbin until he fell, which injured him. I understand horses will play, but this behavior was out of the blue, after Dobbin and Biscuit had been used in a one hour lesson and were turned back out with everyone. Students saw this and also were shocked. Zeus is now at the LaBrie farm where his mom is, and is doing fine.
6yr old STB Gelding... he is here for a short study in Parelli Natural Horsemanship. Gambler is not having a fun time racing at this point, and will be giving the seven games a spin! So far he proves to be a Lbrainer, that will go Rbrain quickly then just as quickly back to Lbrain. He is a thinker and wansn't too sure about the goats. He also thought it was very interesting that horses come in sizes other than STB. Tavish introduced himself right off, and Sparky was quick to follow.
Gambler has learned to Maintain Gait, and Maintain Direction while playing here on the farm, he has gained some weight and also gained some bite marks from the other horses. He is learning how to socially interact with the herd, and we are sad to see him leave on 3/25 to head back to racing... we did however get him saddled and played with no problem at all!!!
Buttermilk Biscuit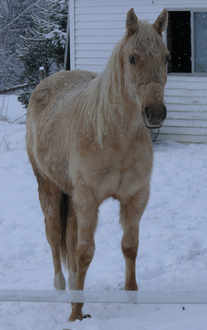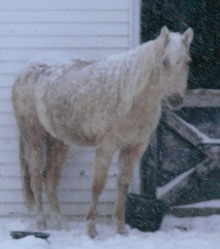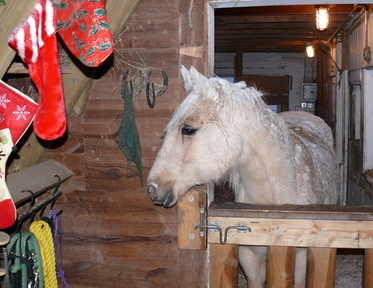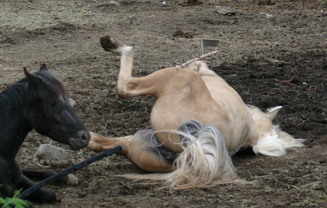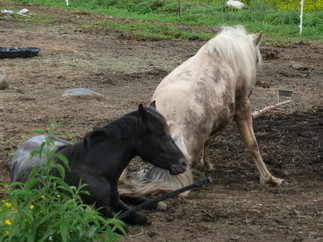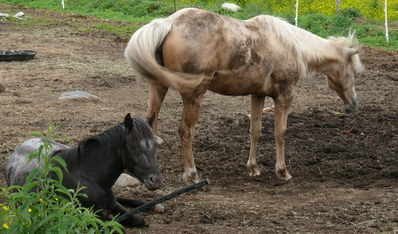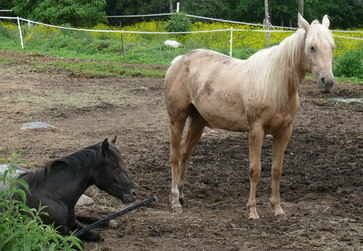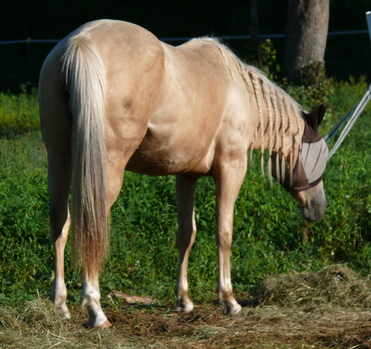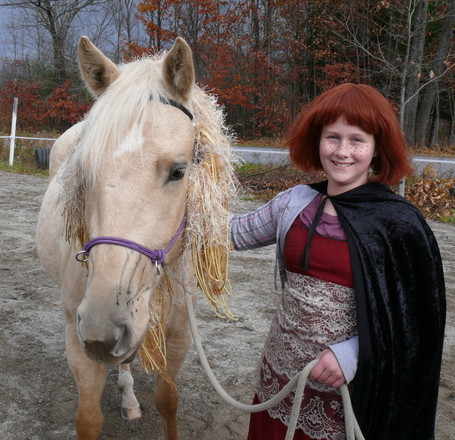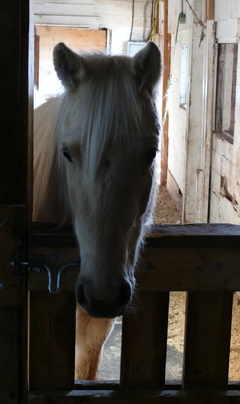 Biscuit is a palomino mare that has taken to life here on the farm wonderfully. She has enjoyed two naps on her first day, and a stretch of her legs! Biscuit will be starting her seven games and patterns right off, along with driving training. Can't wait to see her go.
She seems to like everyone, and is pretty laid back about anything. Glad she gets to start off her new life on the new year!
Biscuit took her first trail ride yesterday, and with a saddle on. There were 12-15 snowmobiles that passed us at different speeds all were handled with out a care in the world by her! Only after about an hour of being out did she think that the fresh snow looked good to roll in! (She got up)
I have foundout that Biscuit is a AQHA filly that has a birthday on 3-18-08! Her name at birth was Pearl, and her sire was a Perlino AQHA Stallion, and her dam was a bay AQHA mare. Unfortunatly both of Biscuit's parents are dead. I can't wait to get some baby pics of her.
Biscuit and I traveled to a Parelli Clinic on 4/9/10. She walked right on the trailer, was completely mellow in the ring and very good about picking up a new horse in the trailer with her. I was super proud of her.
Once again Biscuit showed me her worth! I took her with Tavish to a small trail ride, where I walked her, complete with saddle on. She led, followed, drove and was a lady the entire time. Going to be a gem this one!